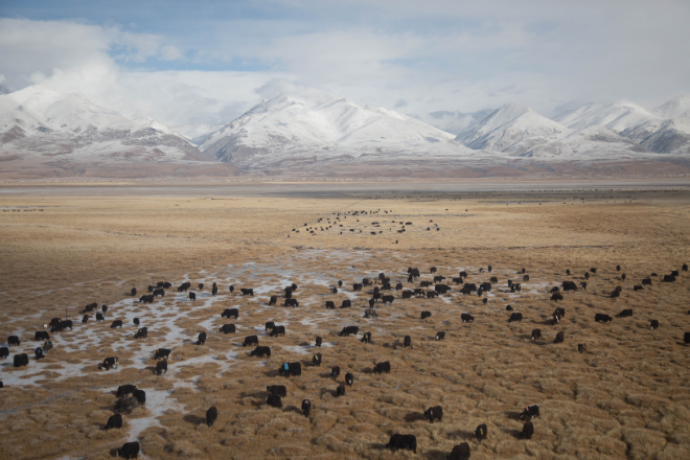 Published
Tuesday, January 15, 2019
We are on a dangerous path towards the overconsumption of our planet's finite resources. Things like overfishing, fracking for fossil fuels, and the destruction of land for farming and ranching are taking a toll on our planet, leading many to take up the fight for conservation. People are using electric cars and charging stations, reducing their plastic consumption, and being mindful of their eating habits and the ingredients in their products. Concern over feeding a global population with the available land and water resources has led some farmers to successfully experiment with sustainable cattle ranching. Learn about sustainable cattle ranching, how it can help our planet, and whether it is a tenable solution for the problems of factory farming.
What is Sustainable Cattle Ranching?
The Northern Great Plains region--spanning 180 million acres, five states, and two Canadian provinces--is one of only four remaining temperate grasslands in the world. Keeping these grasslands intact helps biodiversity, cleans streams, reduces fertilizer runoff, and creates more pollinators for plants. Sustainable cattle ranching produces high-quality beef in a way that improves the natural environment, the economic conditions of the farmers and their communities, and the health of the cattle. Some principles of cattle ranching found in this guide created by the Sustainable Agriculture Initiative include: maintaining soil biodiversity and fertility, avoiding over-grazing of pastures with rotational grazing, using water in ways that do not impact the area's water availability, and more. Sustainable cattle ranching has been proven to address the effects of industrialized farming practices by cycling nutrients between animals, plants, and the environment.
Problems with Sustainable Cattle Ranching
Given the increased focus on sustainability, it's fair to ask whether grass-fed beef is more sustainable than grain-fed beef--which is where we run into problems. Many areas of sustainability are improved via the grass-fed method of cattle ranching, but research has shown that the carbon footprint created via this system is greater than that created by grain-fed operations and feedlots. However, grass-fed cattle offset their carbon footprint by a process called soil carbon sequestration, which removes greenhouse gases from the atmosphere by storing them in biomass and soil.
Beef and other meats produced via grass feeding (called raising livestock on pasture) are more expensive. Many people are willing to pay a premium for meat and crops raised with this food system, but many can't afford these prices. As meat has been used for centuries as an inexpensive source of protein, switching to pasture farming could mean the end of a cheap food course for millions of less privileged individuals.
Sustainable Cattle Ranching In Colorado
Though pasture cattle ranching is not a perfect solution to environmental degradation--because perfect solutions don't exist--it is a kinder way to produce beef. If you're interested in cattle ranches in Colorado, here's a list of a few:
Chico Basin Ranch: This family-owned and -operated ranch in the eastern prairies of Colorado stays mindful of conservation efforts and the health of the surrounding ecosystems. With careful grazing plans and ample terrain, the owners believe that cattle are an important tool in positive conservation operations.
Flying B Bar Ranch: Their cattle are strictly grass-fed, never receive hormones or steroids, and move seasonally in the direction of the growing grasses.
Sun Prairie: Father and son Keith and Tom Parks have been raising grass-fed beef for 35 years and are committed to a vision of a grass-based economy. They believe in fostering a harmonious relationship between the animals, land, and the people of their community.