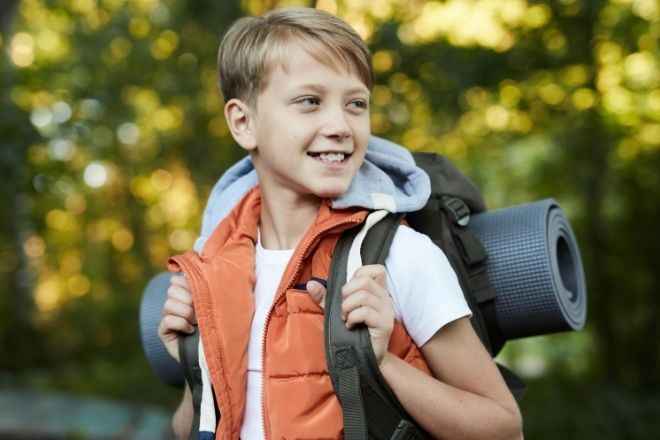 Published
Thursday, August 6, 2020
Summer is the perfect time to introduce your kids to one of the best ways to vacation: an old-fashioned camping trip. You can create lifelong memories together as you explore hiking trails, sleep under the stars, and spend some time away from the screens and distractions of your daily lives. Every kid remembers their first camping trip, so it's important to make the experience a success. Set your family up for a lifetime of adventures together with these tips for taking your kids on their first camping trip.
Start Out Local
Many beginner campers take their first trip somewhere close to home; sometimes, they even camp out in their own backyard. This helps you test your equipment, practice pitching a tent, and get used to roughing it in the great outdoors while staying close to the safety net of your home. By giving your kids this trial run, they get a taste of the camping experience ahead of your big trip. If anything goes wrong, you can address it and learn how to avoid it when the real trip comes along.
Let Them Help
Kids love getting involved, so why not enlist their help? Assign age-appropriate tasks to let your kids prove how useful they are around the campsite. In addition to being one of the best tips for taking your kids on their first camping trip, this is also a great way to stave off potential boredom. Let the kids help with preparing meals, setting out sleeping bags, or cleaning up the campsite. You can even turn each task into a learning experience, such as how to roast the perfect marshmallow or why loose food needs to be packed up before it attracts animals. Use these little chores to teach your kids the essential safety tips for camping, respecting the wildlife and neighboring campsites, and learning more about the natural world around them.
Bring Something Familiar
When kids are put in new situations, they often cling to something familiar. As fun as camping is, it's also a completely new experience. From sleeping outside, to hearing the sounds of the woods around them, to not having their usual routine, there are many stressors that can potentially worry or bother your kids throughout the trip. A touch of home is the perfect way to bring comfort without holding your kids back from new experiences. Pack their favorite pillows and blankets to sleep with in the tent. You can also pack a favorite toy or stuffed animal--just make sure it'll be okay with some outdoor exposure. These familiar, comforting objects are great ways to make the trip and all its new experiences a little easier.