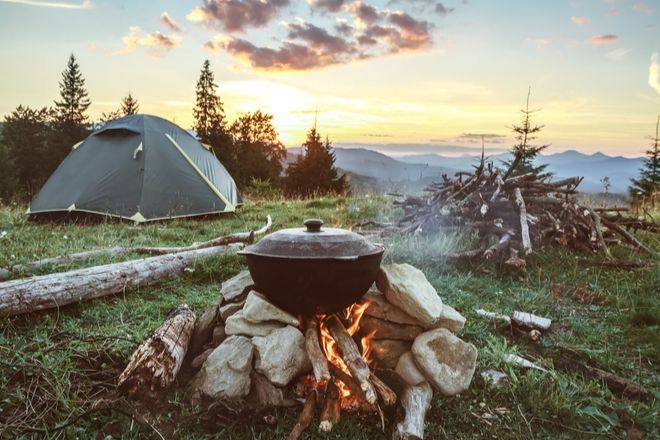 Published
Monday, October 14, 2019
There's no wrong time to pack your bag and spend the weekend at a campsite, but for those who've never done it before, getting there can seem daunting. That's okay--in fact, if you're not worried, you're even more likely to show up completely unprepared. Save yourself the stress with these tips for beginner campers. If you take the time to do a little research and preparation, your first camping trip will be a successful start to the many more amazing adventures to come.
Know Your Gear
Before you leave, take some time to test out your gear and make sure you know what you're doing. Practice pitching your tent (and check to see if it's big enough), ensure the lanterns and flashlights work, and make sure you know how to cook on your camp stove. This is also a good time to stock up on batteries or other little supplies that you might need.
Research Your Campground
The first step of a successful camping trip is choosing the right location. Be sure to check out your campground ahead of time. Is it close to a bathroom facility? Is it pet-friendly? Are there other campsites nearby, and if so, are there quiet hours? Knowing this information ahead of time will keep you from being that obnoxious neighbor, and everyone will have a better trip because of it. Likewise, learn when your campground opens, and plan on getting there early so you have plenty of time to set up your site.
Be Prepared
One of the most essential tips for beginner campers is to be prepared. You never know what nature is going to throw at you, so always bring along extra blankets, layers, and a rain jacket. Make a checklist well in advance so you can write down what you need whenever you think of it. While this might seem unnecessary, having something to refer to makes packing much easier--and it'll help get rid of that nagging feeling of forgetting something.
Plan for Activities
The main draw of camping is spending time in the great outdoors, but there are plenty of other fun things to do while you're there. Plan ahead by packing swimwear or fishing gear if there's water nearby. Chances are there's a hiking trail or two around your campsite, so make sure you have what you need to make the most of it.
Stay Close to Home
It's always good to have a backup plan, so we recommend camping close to home for your first trip. If you forgot anything or something goes wrong, it's not too much of a hassle to head back home--or at least to town for whatever you need. It's also a good idea to plan for a short trip initially to get a feel for the experience before setting out on a longer, more daunting adventure.