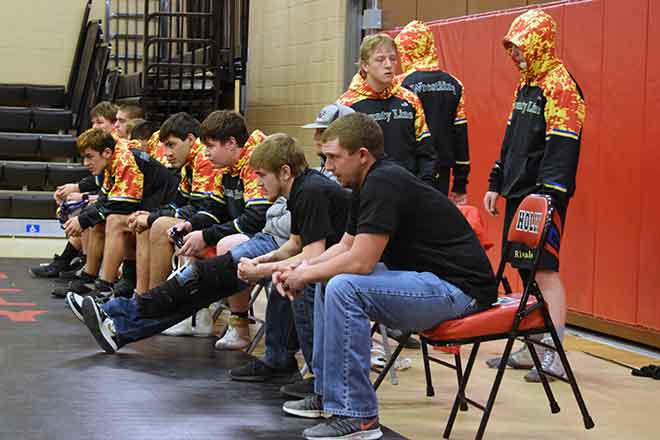 Published
Monday, February 17, 2020
The tickets have been punched for the 2020 CHSAA State Wrestling Championship and seven of our very own County Line Rivals will try their odds at the big show. It was an action packed two days of wrestling in La Junta over the weekend with a lot of highs, a few lows, and even more drama to wrap up the Region 4 tournament. Rocky Ford, the host team, dominated the tournament with 244 points. Lyons and Peyton earned 2nd and 3rd spots with 181 and 171 points respectively. County Line and Crowley County tied for 4th place with 140 points.
Ty Michael finished the weekend in a great spot at 106 pounds. He defeated Hunter Powell from Lyons his first match of the day by major decision 10-2. In the semifinals he fell to Michael Romero from Swink in 1:13 and moved to the consolation side of the bracket. The Rival wouldn't lose another match pinning Luke Wilfong of Peyton on his back in 2:46 and taking a 6-1 decision over Hunter Powell of Lyons. Michael finished the tournament in 3rd place and will advance to the state tournament next week.
Brenden Reifschneider wrestled his last tournament of the year at 113 pounds over the weekend. After a bye in round one the Rival got caught in a pin by Fernando Salazar from Fowler in 1:21. This moved him into a must win situation on the consolation side of the bracket. Daniel Warkentine from Peyton pinned him after 2:31 ending the Rival's season. Although it didn't end like he wanted, Reifschneider is just a freshman and will have three more years to get a shot at the state tournament.
Tate Krentz filled the bracket at 132 pounds. After a bye in round one, He suffered a loss to William Wood of Ellicott by way of pin in 1:53. Krentz came back with a win his next match against Kolby Wolf from Las Animias. Pinning the Trojan to the mat in 2:33, he advanced to the consolation semifinals. A 12-6 decision over Illey Tuttle from Peyton moved the Rival into the consolation championship. Here he suffered a loss to the same William Wood from round one getting pinned in :58 seconds and took the 4thplace spot on the podium but punched his ticket to the big show next week.
Aiden Michael had a successful day at 145 pounds. He drew a bye in round one and pinned Robert Roe of Fowler in the quarterfinals after 5:06. In the semifinals, he met up with Rocky Ford's Joziah Maestas. At the end of the heated matchup, the Meloneer took the win decision win over Michael 5-2. The Rival wouldn't lose another match pinning Ricardo Vidales from Kiowa in 1:29 and Aiden Jack in 1:40. He took 3rd place and will wrestle in Denver next week for the state tournament.
Cade Zordel wrestled at 152 pounds in La Junta. He fell by pin to David Medina of Rocky Ford after 2:46 in his first match. Next, he took on Darek Scarborough of Fowler. Zordel pinned the Grizzly in 1:58 to move to the consolation semifinals. Tanner Howells of Crowley County got the 4-1 decision win over our Rival. He wrestled his final match of the season against Jeffrey Robinson of Trinidad putting the Miner on the mat after 2:49. Zordel placed 5th and his season will end this weekend. Just a junior however, he will be back next year with good knowledge and experience to take into his senior season.
Angel Soto Delgado weighted in at 160 pounds for the Rivals. He came out strong pinning his first opponent, Clay Riggins from Trinidad in 1:30. He dropped his next match to the one seed in the bracket, Jadon Balonado by pin in 2:52. In the consolation quarterfinals he lost a 6-2 decision to Tanner Natelli of Ellicott. This loss ended the Rivals season. Delgado learned a lot throughout the year will be back next year for his senior season to improve his record.
Senior AJ Wilk was the man at 170 pounds. He won his first match of the day against Josiah Rasco from Simila pinning him in 3:52. In the quarterfinals, he got caught in a pin by Jackson Firebaugh of Peyton after 1:47. After two byes, he advanced to the consolation semifinals where he lost a 7-2 decision to Isiah Garcia from Rocky Ford. The Rival won his final high school match against Wyatt Bashor of Lyons by pin in :59. Finishing in 5th place, Wilk was just short of qualifying for the state tournament. He overcame huge obstacles at the beginning of the year and finished his wrestling with a win. The Rivals family will miss AJ next year and wish him all the best in his future endeavors.
Jamie Ibarra took home another gold medal at 182 pounds. After a first-round bye, He pinned Sam Parker of Crowley County in :48. In the championship match, the Rival pinned Rocky Ford's Ignacio Perez-Rodriguez in 2:31 and took the top podium spot. Ibarra will head to Denver as the one seed out of our region.
The 195-pound bracket was another success thanks to Brooks Jones. He sat out round one because of a bye, then got caught in a pin by Karson Bean of Lyons after 5:23. Next, he pinned Ricardo Rocha of Rocky Ford to the mat in 3:57. He lost in the consolation championship to Zak Cobb of Peyton by fall in 2:59. This put him in 4th place, however due to the fact that the 5thplace wrester had never matched up with Jones, he was challenged to a wrestle back. This is a must win situation for the Rival as the winner advances to the state championship tournament and the loser goes home. The determination was clear on the mat as he pinned Davis Shults flat after just :45. Jones will try his luck next weekend in Denver.
Taite Johnson filled the 220-pound bracket for County Line. He began wrestling in round two after a bye. His first match was against defending state champion Jesse Tapia of Rocky Ford. The Meloneer pinned our Rival after 1:48. Johnson came back strong pinning Omar Hernanadez of Simila in 4:28. A fall in :54 to Jacob Armijo of Trinidad dropped the Rival into 4th place but will still advance to the state championships next weekend.
Chase Stolzenberger was the final Rival to punch his ticket to the state tournament at 285 pounds. The sophomore drew a bye in round one and met Peyton Froman from Rocky Ford in round two. After a very physical match he dropped the 3-1 decision to the Meloneer and moved to the consolation side of the bracket. There he pinned Jasper Smith of Fowler in 1:40 to advance to the consolation final. The Rival got caught on his back after :35 by Samuel Leary of Peyton and dropped to 4th place. He then was put in the same situation as Jones, and was challenged by the 5th place wrestler, Garrett Roberts of Lyons. Stolzenberger wasn't going to miss his chance at the state tournament however and pinned his opponent on his back in 2:33.
It was a successful weekend for the team sending seven of their eleven varsity wrestlers. Unfortunately, a few Rivals seasons ended this weekend, and we will miss Brenden Reifschnedier, Cade Zordel, Angel Soto-Delgado, Chris Torres, and AJ Wilk next weekend. The remaining Rivals, Ty Michael, Tate Krentz, Aiden Michael, Brooks Jones, Jamie Ibarra, Taite Johnson, and Chase Stolzenberger will spend the next three days preparing for the state tournament that will begin Thursday at 2:00 pm at the Pepsi Center in Denver. Visit www.chsaa.org for scheduling and ticket info.
Go Rivals!