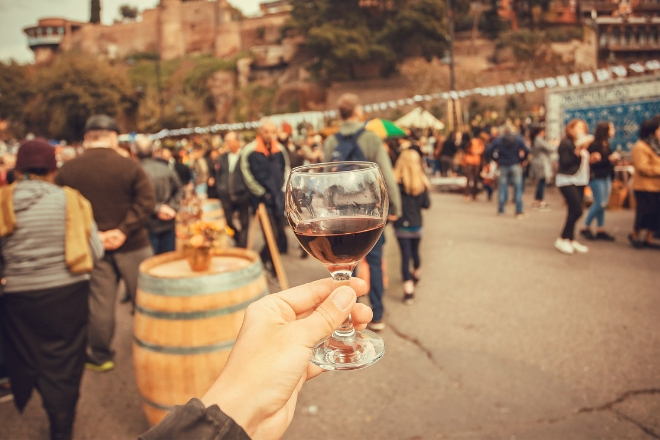 Published
Wednesday, April 24, 2019
It's about that time to hang out with friends and sip on tasty beverages while enjoying the warm weather. If beer isn't your thing, you're in luck: Colorado hosts various wine festivals throughout the summer. Check out our list of upcoming spring and summer wine festivals in Colorado.
Wine Heaven in Colorado
May
Durango Wine Experience
May 2-4
Sponsored by a nonprofit organization of the same name, the Durango Wine Experience is the optimal place for winemakers to showcase their products. This festival is comprised of three days of educational seminars, wine dinners, tastings, and more.
Learn more here.
Taste of Spring at Fox Fire Farms
May 25-26
Come enjoy fresh air and good company at Fox Fire Farms as they open their wine room for the season. They have everything you need for a great day and incredible memories--baby farm animals, live music, local artisans, and, of course, tasty wine.
Learn more here.
June
Manitou Springs Colorado Wine Festival
June 1
Explore offerings from 30 different Colorado wineries at Manitou Springs' one-day wine festival. It'll have live music and food vendors along with wine tastings from each vendor--and since it takes place in Memorial Park, you'll get gorgeous views, too.
Learn more here.
Food & Wine Classic in Aspen
June 14-16
Sip on delicious wines and learn from some of the world's most recognizable chefs, such as Geoffrey Zakarian, Anne Burrell, Alex Guarnaschelli, and more. Relax with wine tastings and great conversation under Aspen's majestic alpine skies.
Learn more here.
Telluride Wine Festival
June 27-30
The 38th Annual Telluride Wine Festival offers more than just wine tastings--it brings in renowned winemakers, sommeliers, and America's finest chefs for an intimate experience.
Learn more here.
July
Crested Butte Wine & Food Festival
July 24-28
A festival for serious wine lovers, Crested Butte Wine & Food Festival will give you the chance to meet sommeliers, winemakers, and James Beard Award-winning chefs. Take in the heat of summer with crisp wines and decadent foods.
Learn more here.
Breckenridge Food and Wine
July 26-28
Take a walk down Main Street during this festival and witness the town's transformation into a mountainside vineyard. You'll get to choose from around 300 varieties of wines from the region's top wineries.
Learn more here.
August
Estes Park Wine Festival
August 10-11
At the Estes Park Wine Festival, you'll get to sip on wines from over 20 different Colorado-based wineries. Local food, gift shops, and live music create an enjoyable atmosphere.
Learn more here.
Remember to stay safe as you enjoy the libations--have a sober driver on hand, and know your limits before you begin. Drinking is only fun when enjoyed responsibly.