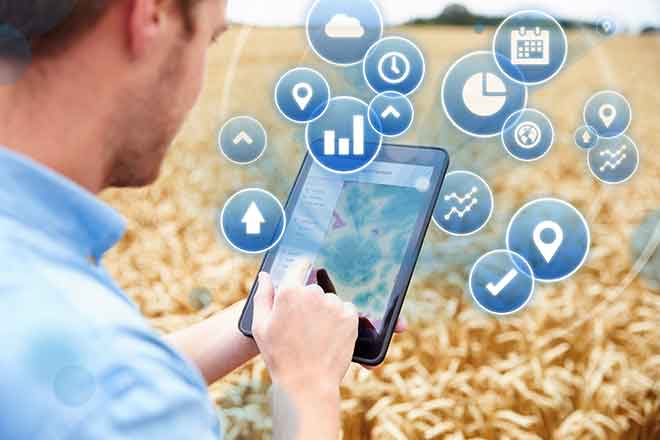 Published
Tuesday, October 23, 2018
Hard freezes in several areas last week ended the growing season, as producers continued harvest and fall planting where conditions allowed, according to the Mountain Regional Field Office of the National Agricultural Statistics Service, USDA.
Winter wheat planted was nearly complete by week's end and hard freezes aided crop dry down.
Northeastern county reporters noted prior moisture and cool temps delayed fieldwork in areas and slowed winter wheat emergence, but warm temperatures later in the week allowed harvest to continue. A reporter in Morgan county noted sugar beet harvest was in full swing last week.
In east central counties, scattered moisture was received last week. A reporter noted prior moisture continued to hamper fall harvest.
Reporters in southwestern counties noted recent rains improved conditions, but moisture has been unevenly distributed and exceptional drought conditions persist.
In the San Luis Valley, potato harvest was virtually complete. A reporter noted hay supplies were still noticeably short.
In southeastern counties, more rain was received last week that delayed harvest. A reporter noted they had two hard freezes which ended growth for corn and sorghum, but was harsh enough to set alfalfa back.
Statewide, corn was rated 68 percent good to excellent, compared with 78 percent rated good to excellent last year.
Stored feed supplies were rated 8 percent very short, 19 percent short, 68 percent adequate, and 5 percent surplus.Sheep death loss was 72 percent average and 28 percent light.
Cattle death loss was 2 percent heavy, 76 percent average, and 22 percent light.
CROP AND LIVESTOCK PROGRESS

Commodity

Current week

Previous week

Previous year

5-year average

(percent)

(percent)

(percent)

(percent)

Alfalfa hay

4th cutting harvested ..........................................

64

59

60

72

Corn

Mature ...............................................................

94

85

84

92

Harvested for grain ...........................................

38

29

17

33

Dry edible beans

Harvested ..........................................................

96

92

93

87

Potatoes inside San Luis Valley

Harvested ..........................................................

96

83

94

93

Potatoes outside San Luis Valley

Harvested ..........................................................

100

94

90

NA

Sorghum

Mature ...............................................................

94

70

82

86

Harvested ..........................................................

26

19

12

28

Sugarbeets

Harvested ..........................................................

39

26

34

45

Sunflowers

Harvested ..........................................................

20

8

11

31

Winter wheat

Planted ..............................................................

94

86

93

96

Emerged ............................................................

75

66

63

75

DAYS SUITABLE FOR FIELDWORK AND SOIL MOISTURE CONDITION

Current week

Previous week

Previous year

5-year average

Days suitable for fieldwork ....................................

5.3

3.8

6.7

6.4

Topsoil moisture

(percent)

(percent)

(percent)

(percent)

Very short .........................................................

5

6

1

7

Short .................................................................

18

23

10

27

Adequate ...........................................................

74

70

87

64

Surplus ..............................................................

3

1

2

2

Subsoil moisture

Very short .........................................................

16

11

2

12

Short .................................................................

25

28

14

29

Adequate ...........................................................

58

60

82

58

Surplus ..............................................................

1

1

2

1

CROP, LIVESTOCK, PASTURE AND RANGE CONDITION

Commodity

Current week

Previous week

Previous year

5-year average

(percent)

(percent)

(percent)

(percent)

Corn

Very poor ..........................................................

3

2

1

3

Poor ...................................................................

9

6

5

6

Fair ....................................................................

20

24

16

23

Good .................................................................

54

62

56

54

Excellent ...........................................................

14

6

22

14

Pasture and range

Very poor ..........................................................

28

29

1

6

Poor ...................................................................

27

25

8

15

Fair ....................................................................

17

20

22

28

Good .................................................................

24

24

54

43

Excellent ...........................................................

4

2

15

8

Sorghum

Very poor ..........................................................

10

4

3

6

Poor ...................................................................

9

6

5

13

Fair ....................................................................

26

25

12

30

Good .................................................................

45

61

60

45

Excellent ...........................................................

10

4

20

6

Sugarbeets

Very poor ..........................................................

3

3

1

NA

Poor ...................................................................

6

6

3

NA

Fair ....................................................................

24

24

14

NA

Good .................................................................

42

51

60

NA

Excellent ...........................................................

25

16

22

NA

Sunflowers

Very poor ..........................................................

2

1

1

5

Poor ...................................................................

3

2

2

7

Fair ....................................................................

29

26

15

28

Good .................................................................

58

66

59

49

Excellent ...........................................................

8

5

23

11

Winter wheat

Very poor ..........................................................

2

2

2

2

Poor ...................................................................

5

8

9

8

Fair ....................................................................

25

32

34

38

Good .................................................................

55

51

42

43

Excellent ...........................................................

13

7

13

9

Livestock

Very poor ..........................................................

3

1

--

--

Poor ...................................................................

3

2

1

2

Fair ....................................................................

17

18

14

16

Good .................................................................

68

69

78

72

Excellent ...........................................................

9

10

7

10