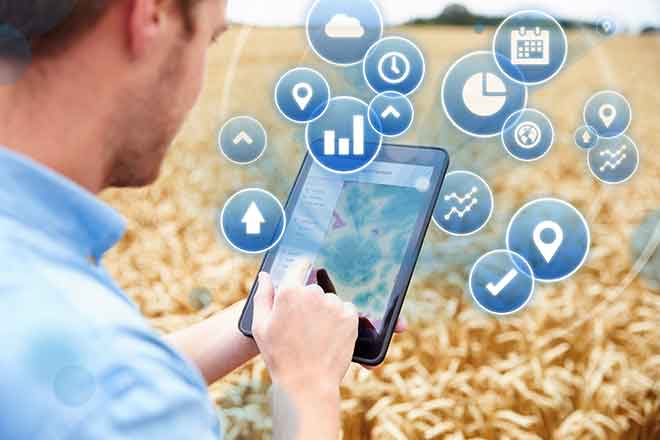 Published
Tuesday, May 7, 2019
Despite precipitation events and cooler temperatures early in the week, spring planting and fieldwork made substantial gains last week, according to the Mountain Region Field Office of the National Agricultural Statistics Service, USDA.
Northeastern and east central county reporters noted early week moisture kept producers out of the field. Snow was received in some localities. A reporter noted most crops looked good, but producers of non-irrigated crops and those with rangeland felt more moisture was needed going forward.
In the southwestern district, snowpack ratings remained above last year. Portions of southernmost counties remained the only counties in the district rated as abnormally dry to experiencing moderate drought, according to the latest U.S. Drought Monitor report.
In the San Luis Valley, a reporter noted cattle producers experienced more cows than normal losing their calf, but the reason was not identified. Lambing was reportedly progressing well. Spring barley planting started to slow down and potato producers made significant progress planting last week. Hay supplies were noted as a little tight.
Southeastern counties received rain last week, slowing progress of corn planting. A reporter mentioned limited hay was being cut and producers were taking action against weed pressure in the crop.
Statewide, winter wheat condition was rated 73 percent good to excellent, compared to 53 percent rated good to excellent last year.
As of May 6, 2019, snowpack in Colorado was 132 percent measured as percent of median snowfall. The Southwest and San Luis Valley were 176 and 139 percent, respectively.
Stored feed supplies were rated 7 percent very short, 16 percent short, 74 percent adequate, and 3 percent surplus.
Sheep death loss was 95 percent average and 5 percent light.
Cattle death loss was 7 percent heavy, 81 percent average, and 12 percent light.
CROP AND LIVESTOCK PROGRESS

Commodity

Current week

Previous week

Previous year

5-year average

(percent)

(percent)

(percent)

(percent)

Alfalfa hay

1st cutting harvested

1

NA

NA

NA

Barley

Planted

87

76

92

85

Emerged

52

25

61

46

Corn

Planted

21

8

15

28

Emerged

2

--

1

2

Onions

Planted

54

39

89

83

Potatoes inside San Luis Valley

Planted

32

8

41

23

Potatoes outside San Luis Valley

Planted

44

29

57

69

Emerged

5

--

3

9

Proso millet

Planted

5

3

NA

NA

Sugarbeets

Planted

83

58

72

73

Emerged

27

9

17

20

Winter wheat

Jointed

54

37

44

60

Headed

2

--

1

4

Cattle and calves

Cows calved

90

87

93

94

Sheep and lambs

Ewes lambed

96

93

98

93

DAYS SUITABLE FOR FIELDWORK AND SOIL MOISTURE CONDITION

Current week

Previous week

Previous year

5-year average

Days suitable for fieldwork

6.1

5.9

4.8

4.5

Topsoil moisture

(percent)

(percent)

(percent)

(percent)

Very short

1

--

18

8

Short

10

7

24

18

Adequate

87

89

57

68

Surplus

2

4

1

6

Subsoil moisture

Very short

1

--

11

10

Short

9

7

24

24

Adequate

89

93

64

63

Surplus

1

--

1

3

CROP, LIVESTOCK, PASTURE AND RANGE CONDITION

Commodity

Current week

Previous week

Previous year

5-year average

(percent)

(percent)

(percent)

(percent)

Alfalfa hay

Very poor

--

--

7

NA

Poor

2

2

9

NA

Fair

12

8

29

NA

Good

74

82

47

NA

Excellent

12

8

8

NA

Pasture and range

Very poor

2

2

14

8

Poor

5

8

24

18

Fair

21

26

31

31

Good

67

58

30

39

Excellent

5

6

1

4

Winter wheat

Very poor

--

--

5

7

Poor

2

2

12

12

Fair

25

22

30

32

Good

59

60

48

42

Excellent

14

16

5

7

Livestock

Very poor

--

--

--

--

Poor

4

5

3

2

Fair

24

20

13

18

Good

63

67

79

72

Excellent

9

8

5

8