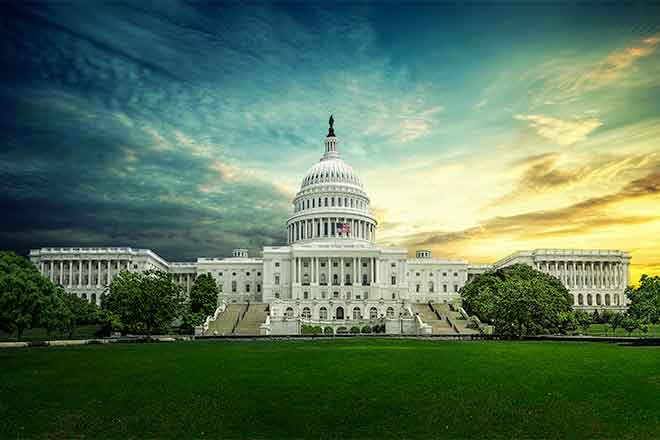 Published
Friday, June 25, 2021
(The Center Square) - The Biden administration said Thursday it has reached an agreement on infrastructure with a coalition of Senate Democrats and Republicans.
The White House announced a $1.2 trillion infrastructure package with $579 billion in new spending. The package designates $312 billion for transportation, including $109 billion for roads, bridges and other major projects. The other $266 billion goes towards other forms of infrastructure, including $65 billion toward broadband infrastructure and $55 billion toward water infrastructure.
"I'm pleased to report that a bipartisan group of senators ... have come together and forged an agreement that will create millions of American jobs and modernize our American infrastructure to compete with the rest of the world," Biden said while giving remarks at the White House Thursday.
The bipartisan group of senators that met with Biden at the White House includes five Republican and five Democratic senators. The group includes Sen. Shelley Moore Capito, R-W.Va., whose individual infrastructure negotiations with Biden fell apart earlier this month.
Sen. Susan Collins, R-Maine, expressed confidence in the agreement to reporters outside the White House.
"It was essential to show the American people that the Senate can function, that we can work in a bipartisan way, and it sends an important message to the world as well," said Collins
The plan will largely be funded by leftover money from COVID-19 relief bills and unemployment funds. Other methods of paying for the bill include bonds and public-private partnerships, according to the White House.
Notably absent from the payment methods for the bill is an increase in the gas tax, which Republicans had previously pushed for in their own infrastructure plans.
"We're gonna do it all without raising a cent from earners below $400,000," said Biden. "There's no gas tax increase, no fee on electric vehicles, and the fact is we're gonna make sure that everybody in America is in a position to be able to do what needs to be done."
Republican senators in the bipartisan group are seeing the deal as a victory, since it ensures funding for traditional forms of infrastructure. Sen. Mitt Romney, R-Utah, expressed this when talking to the media.
""It's been years and years people have been talking about the infrastructure needs of our country. We know that. We recognize the crumbling infrastructure, and this group came together and actually got the job done," Romney said.
Biden has not forgotten about the other parts of his original "American Jobs Plan," which included an expansion of Medicaid among other non-traditional forms of infrastructure.
At his remarks at the White House, Biden also made clear he wants to get all his objectives in his original proposal accomplished through other means.
Whether the bill will successfully pass through the Senate remains to be seen.
"We need physical infrastructure but we also need the human infrastructure as well, they were a part of my overall plan," Biden said. "What we agreed on today is what we could agree on, the physical infrastructure. There was not agreement on the rest we're gonna have to do that through the budget process and we need a fair tax system to pay for that and I'm not gonna rest until both get to my desk."