Image
Celebrating the Life of Alice Jean Weisdorfer Davis Nordick
Alice Jean Weisdorfer Davis Nordick
June 14, 1933 – May 4, 2021
Alice Jean, preferring to be called Jeany or Jean, was born June 14, 1933, to Lawrence and Grace (Herschler) Weisdorfer. The eldest of four children, Jean spent her childhood years growing up on a farm in the Prairie Queen District North of Haswell. Jean attended her first years of school at Prairie Queen and later rode the school bus to Eads for grade school.
Image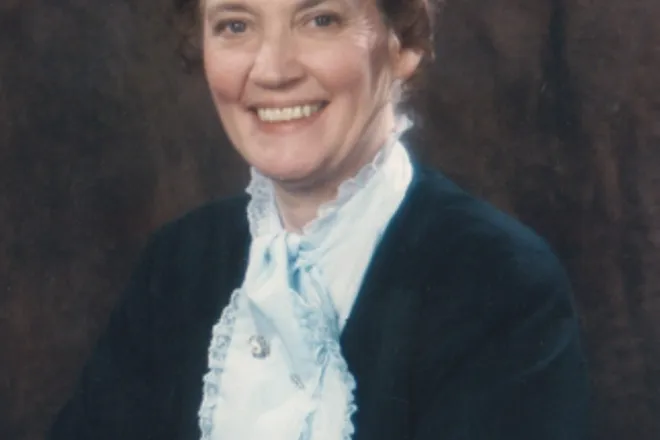 In 1946, Jean's parents and siblings, moved to the Black Forest area and later on to Denver. 
During this time, Jean stayed with her grandparents for the remaining school year. 
She attended high school at South High in Denver, graduating June 5, 1951, from Denver West High School. It was during this time that Jean met 2nd Class Airman Ken Davis Jr. He was originally from New Jersey and, at the time, was stationed at Lowry Airforce Base in Denver.  As written by Jean, their first date was senior prom. A relationship blossomed, but by August Ken was to be stationed overseas for the next 18 months. Upon his return for a 30 day leave period, Jean and Ken were married in a home ceremony December 27, 1952. Ken returned to Germany for an additional 18 months, and Jean moved to New Jersey to live with Ken's parents. Upon returning to civilian life, Jean helped support her husband's education while he attended Denver University.  After receiving a Bachelor of Science Degree in Business Administration, Ken was hired by Texaco and relocated to Phoenix, Arizona. 
In 1960 Jean gave birth to their first daughter, Lori Ellen Davis, who, due to complications at birth, did not survive.  At that time, Ken's job with Texaco took them to Ardmore, Texas, and later to Minneapolis, Minnesota, where they were able to settle.
 June 25, 1963, while visiting family, Jean gave birth to their second daughter, Lisa Jean Davis, at St. Joseph's Hospital in Denver.  Lisa was her daddy's pride and joy.  It was just prior to their second Christmas that Ken's health had started to decline, and he passed away April 15, 1966.
While living in Minnesota, Jean became close friends with two sisters, Carol and Tamara Sparks. Upon the loss of her late husband, Jean and her friends had decided to move to San Francisco pending an opportunity to continue working for her then boss. Through a family connection, Jean reached out to Willard, an old childhood classmate, upon learning that his wife had become ill.  
Upon Willards wife's Lois' passing, Jean reached out once again with a sympathy card.  After having moved to San Francisco, she planned to pick up her daughter, Lisa, who had been spending the summer with her grandparents in Eads. Willard offered to pick her up at the airport and take her to Eads.  A friendship was rekindled, and in the next few months, Jean and Willard's relationship blossomed to bring two families of heartbreak together to become one. 
Throughout the years, Jean helped run the family restaurant businesses and raise their children. She enjoyed being a part of the family's love of horses, traveling all over, summer and winter activities and especially music.
Jean was a proficient seamstress throughout her lifetime. Jean made over 120 of Willards western shirts and a suit.  She made down coats for family and friends. Her most recent endeavor in sewing was making denim quilts for family friends and the community.  She also was interviewed by the Limon Leader for making lap quilts for the residents at the nursing home in Hugo. 
After the family left the restaurant business, Jean continued to work using her business skills. 
She worked at Monk's Construction, the Safari Motel, and New York Life Insurance, where she was the top agent for the State of Colorado, as well as Avon, Eniva. Youngevity was her latest endeavor.
Over the past 20 years, she also provided care to her mother, mother-in-law, daughter's mother-in-law and many other people in the community. Jean was a force of nature. At times stubborn, strong willed and very tenacious. 
Throughout the years, she opened her home to those in need. She loved the Lord, and her service to him, having Sunday morning meeting in the home for over 60 years. 
She became a grandmother to 11, a great grandmother to 15, and a great-great grandmother to three. 
Jean quietly passed away in the attendance of a family friend care giver at the family home May 4, 2021.
Memorial Service will be held 10:30 a.m. Friday, May 21, 2021, at Love Funeral Home Chapel
Limon, Colorado
Memorial contributions may be made to the  Limon Ambulance Service P.O. Box 374 Limon, CO 80828.