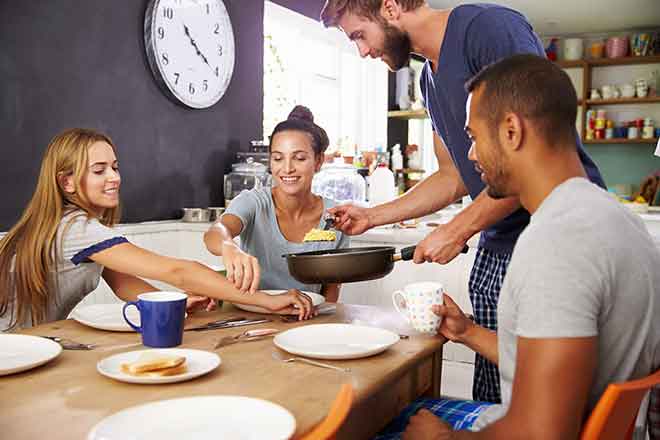 Published
Saturday, November 28, 2020
Stuffed with fruits and veggies, this hearty cake can be shared after a light lunch or dinner.
Ingredients
3 eggs
2 cups sugar
2 teaspoons vanilla
1 cup vegetable oil
2 cups zucchini (peeled, grated)
1 teaspoon baking powder
1 teaspoon salt
1 teaspoon baking soda
3 cups flour (all purpose)
1 cup pineapple, crushed, drained
1/2 raisins (optional)
1 pecans, chopped (optional)
Directions
Preheat oven to 350 degrees. Grease or lightly spray with non-stick cooking spray, a 9 x 13 inch pan.
In a large bowl, beat eggs, sugar, vanilla, and oil. Add zucchini.
In a separate bowl, combine baking powder salt, baking soda and flour. Add dry ingredients to creamed mixture.
Stir in fruit and nuts.
Bake for 45 to 50 minutes, or until cake springs back when lightly pressed with your finger.
Source: Montana State University Extension Service
Nutrition Information
Serving Size: 1 3x3.25 inch piece of cake, 1/12 of recipe (135g)
| Nutrients | Amount |
| --- | --- |
| Total Calories | 439 |
| Total Fat | 20 g |
| Saturated Fat | 3 g |
| Cholesterol | 47 mg |
| Sodium | 360 mg |
| Carbohydrates | 61 g |
| Dietary Fiber | 1 g |
| Total Sugars | 37 g |
| Added Sugars included | 32 g |
| Protein | 5 g |
| Vitamin D | 0 mcg |
| Calcium | 41 mg |
| Iron | 2 mg |
| Potassium | 127 mg |