Image
Cooking at Home - Apple Oatmeal Muffins
Image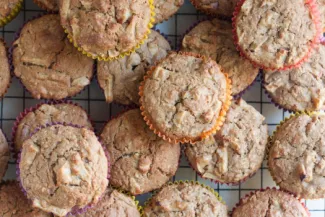 Makes: 6 Muffins
Buy apples while they are in season and on sale and make batches of these muffins to put in the freezer for later. You can also substitute whole wheat flour to make your muffins heartier and more nutritious.
Ingredients
1/2 cup milk, non-fat

1/3 cup applesauce

1/2 cup flour, all-purpose

1/2 cup quick-cooking oats (uncooked)

1 cup sugar

1/2 tablespoon baking powder

1/2 teaspoon ground cinnamon

1 apple (tart, cored & chopped)
Directions
Preheat oven to 400 °F.

Place 6 cupcake holders in baking tin.

In a mixing bowl, add milk and applesauce. Stir until blended.

Stir in flour, oats, sugar, baking powder, and cinnamon. Mix until moistened (do not over mix).

Gently stir in the chopped apples.

Spoon into cupcake holders.

Bake for 15-20 minutes or until an inserted toothpick comes out clean.

Cool in pan 5 minutes before serving. Store unused portions in an airtight container.
Notes
Optional toppings: raisins, walnuts.
Source: Simple Healthy Recipes, Oklahoma Nutrition Information and Education - ONIE Project
Nutrition Information
Serving Size: 1 muffin
| Nutrients | Amount |
| --- | --- |
| Total Calories | 222 |
| Total Fat | 1 g |
| Saturated Fat | 0 g |
| Cholesterol | 0 mg |
| Sodium | 132 mg |
| Carbohydrates | 53 g |
| Dietary Fiber | 2 g |
| Total Sugars | 39 g |
| Added Sugars included | 32 g |
| Protein | 3 g |
| Vitamin D | 0 mcg |
| Calcium | 102 mg |
| Iron | 1 mg |
| Potassium | 104 mg |