Image
Cooking at Home - Blueberry Coffee Cake
Image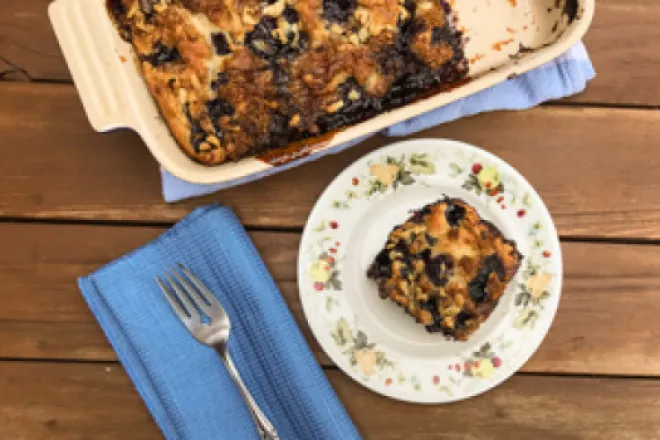 Makes: 8 servings
A delicious addition to your breakfast table, or enjoy a slice as an afternoon snack.  Fresh berries work well, but if they aren't available or in season, try this recipe with (thawed) frozen berries.  Either way, it's sure to please!
Ingredients
1 egg
1/2 cup non-fat milk
1/2 cup yogurt, non-fat vanilla
3 tablespoons canola oil
1/4 teaspoon cinnamon
2 teaspoons lemon peel (grated, yellow only)
2 cups flour
1/2 cup sugar
4 teaspoons baking powder
1/2 teaspoon salt
1 1/2 cups fresh (or frozen unsweetened) blueberries
Topping Ingredients:
3 tablespoons sugar
1/8 cup walnuts (coarsely chopped)
Directions
Preheat oven to 400 degrees. Position rack in the center of the oven.
In a large bowl whisk together the egg, milk, yogurt, oil and lemon peel.
Sift the flour, sugar, baking powder and salt onto the liquid ingredients. Using a fork, stir very lightly, just until ingredients are combined.
Gently fold in the blueberries. Pour the batter into an 8- or 9-inch baking pan coated with nonstick spray.
In a small bowl combine the topping ingredients. Sprinkle evenly over the cake batter.
Bake a 400 degrees for 30 to 35 minutes or until the top is lightly browned and a wooden toothpick inserted in the center comes out clean.
Allow the cake to cool in the baking pan on a wire rack for at least 10 minutes.
Serve warm or at room temperature.
Notes
When tightly wrapped in plastic wrap, this coffee cake will keep for 3 to 4 days in the refrigerator. It also freezes very well.
Source: California's Chefs Cook Lean California Department of Health Services
Nutrition Information
| Nutrients | Amount |
| --- | --- |
| Total Calories | 278 |
| Total Fat | 7 g |
| Saturated Fat | 1 g |
| Cholesterol | 24 mg |
| Sodium | 415 mg |
| Carbohydrates | 49 g |
| Dietary Fiber | 2 g |
| Total Sugars | 23 g |
| Added Sugars included | 18 g |
| Protein | 6 g |
| Vitamin D | 0 mcg |
| Calcium | 190 mg |
| Iron | 2 mg |
| Potassium | 124 mg |