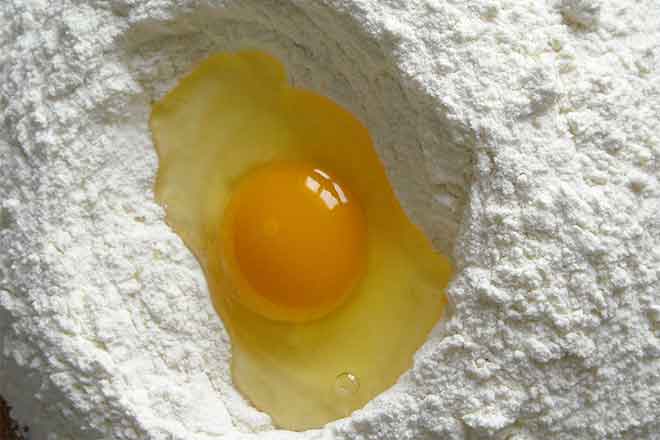 Published
Saturday, August 10, 2019
Makes: 4 Servings
Vary your vegetables at any meal. Fresh green peppers add flavor and color to this omelet.
Ingredients
1 can corn (drained, about 15 ounces)
1/4 cup low-fat milk
4 large eggs
1 green pepper (sliced into thin strips)
1 onion (peeled and chopped into small pieces)
2 tablespoons Parmesan cheese (grated)
2 teaspoons vegetable oil
1/2 teaspoon salt
1/2 teaspoon chili powder
1/4 teaspoon black pepper
Directions
Preheat oven to 350 degrees F.
In a medium mixing bowl, beat the eggs with the milk, salt, pepper, and chili powder. Cover and set aside.
In a large skillet over medium heat, cook onion and green pepper until tender, about 5 minutes.
Add the corn. Cook for 5 more minutes, stirring once in awhile. Reduce heat to low and stir.
Pour egg mixture over the vegetables in the skillet.
Cook on the stove top until the eggs begin to set, about 3 to 4 minutes.
Sprinkle cheese evenly on top.
If the skillet is oven-proof, place in the oven and bake until eggs are fully set, about 7 to 10 minutes.
If the skillet is not oven-proof, cover and continue to cook on the stove until eggs are fully set, about 7 to 10 minutes.
Remove from oven or stovetop heat and let stand for 1 minute.
Cut into wedges and serve.
Source: Recipe adapted from Mrbreakfast.com.
Nutrition Information
Nutrients Amount
Calories 160
Total Fat 7 g
Saturated Fat 2 g
Cholesterol 180 mg
Sodium 310 mg
Total Carbohydrate 19 g
Dietary Fiber 2 g
Total Sugars 6 g
Added Sugars included N/A
Protein 9 g
Vitamin D N/A
Calcium 72 mg
Iron 2 mg
Potassium N/A