Image
Cooking at Home - Pea Guacamole
Image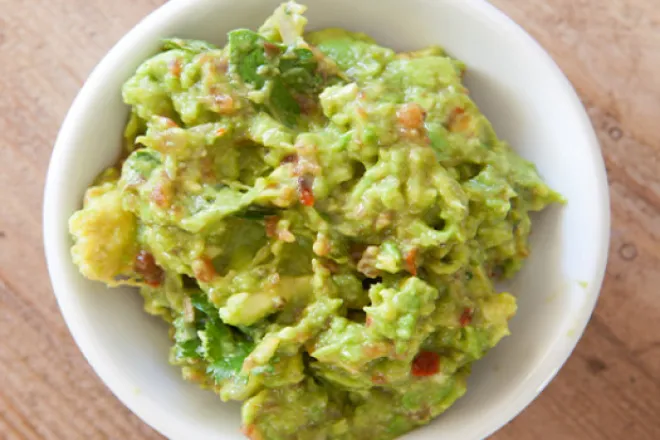 Makes:12 Servings
While avocados tend to get all the guacamole glory, sometimes they're not available, not ripe, or just too expensive!  Check out this tasty, bright, and satisfying recipe that put the humble green pea in the leading role.  
Ingredients
2 cups frozen peas, thawed
2 tablespoons lime juice
1/2 cup grape tomatoes, halved
1/4 cup red onion, chopped
1 can green chilies, drained, diced (4 oz)
3 tablespoons cilantro (chopped)
1 clove Fresh garlic, minced
1/4 teaspoon black pepper
salt (to taste, optional)
Directions
Mash peas until smooth. 
Add the lime juice, tomato, onion, green chilies, cilantro, garlic, salt (if using), and black pepper. Mix well. 
Serve with an assortment of raw vegetables and whole-grain tortilla chips. 
Source: Westmoreland County, PA, SNAP-Ed Program
Nutrition Information
Serving Size: 1/4 cup
| Nutrients | Amount |
| --- | --- |
| Total Calories | 27 |
| Total Fat | 0 g |
| Saturated Fat | 0 g |
| Cholesterol | 0 mg |
| Sodium | 119 mg |
| Carbohydrates | 5 g |
| Dietary Fiber | 2 g |
| Total Sugars | 2 g |
| Added Sugars included | 0 g |
| Protein | 2 g |
| Vitamin D | 0 mcg |
| Calcium | 13 mg |
| Iron | 1 mg |
| Potassium | 68 mg |