Image
Cooking at Home - Red Potato Salad
Image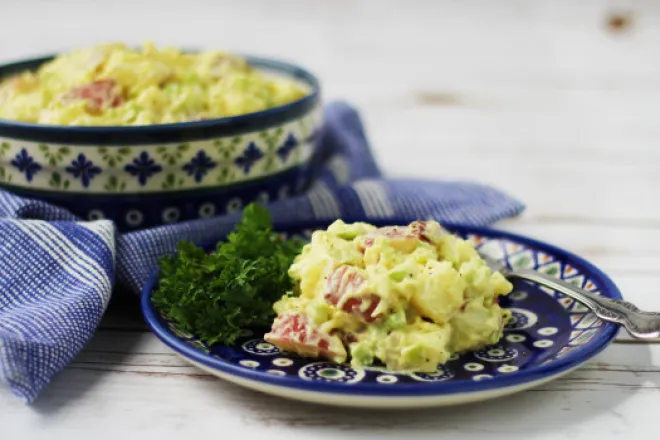 Makes: 4 Servings
This all-time favorite mix of tender potatoes, celery, and onions has been updated with a tangy yogurt sauce. This classic side is sure to please a hungry family or backyard BBQ guests.
Ingredients
1 cup yogurt, plain fat-free
1/4 cup mayonnaise, low-fat
1 tablespoon yellow mustard
4 medium red potatoes (about 1 pound)
1/2 cup celery, chopped
1/4 cup onion, finely chopped
1/2 teaspoon salt
1/4 teaspoon pepper
Directions
To prepare sauce, combine yogurt, mayonnaise and mustard in a small bowl. Mix well and refrigerate.
Wash potatoes and place in pot. Cover with water about 1 inch above potatoes.
Bring water and potatoes to a boil and simmer until potatoes are fork tender.
Drain potatoes and set aside to cool.
When potatoes are cooled, cut into bite-sized cubes. Place cut potatoes into large bowl.
Add celery, onions, salt, and pepper to potatoes. Top with sauce and mix well.
Garnish with parsley and enjoy.
Notes
Red or white potatoes can be used.
Dijon mustard can be substituted for yellow mustard.
Source: USDA Center for Nutrition Policy and Promotion
Nutrition Information
Serving Size: 1/2 cup
| Nutrients | Amount |
| --- | --- |
| Total Calories | 236 |
| Total Fat | 5 g |
| Saturated Fat | 1 g |
| Cholesterol | 1 mg |
| Sodium | 488 mg |
| Carbohydrates | 41 g |
| Dietary Fiber | 4 g |
| Total Sugars | 9 g |
| Added Sugars included | 1 g |
| Protein | 8 g |
| Vitamin D | 0 mcg |
| Calcium | 151 mg |
| Iron | 2 mg |
| Potassium | 1184 mg |