Image
Cooking at Home - Salmon Burgers and Sweet Potato Oven Fries
Image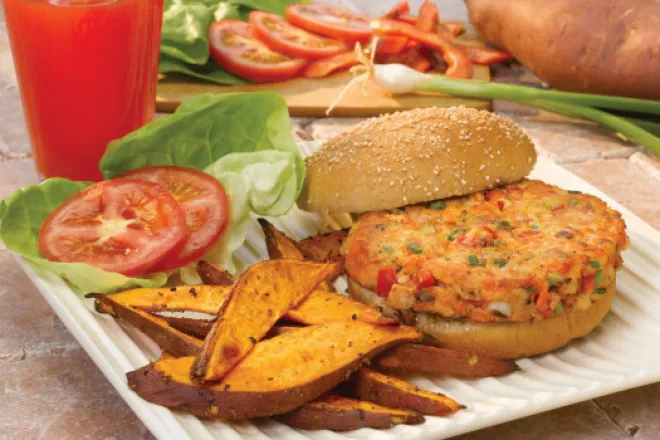 Makes: 4 Servings
Preparation Time: 15 minutes
A colorful, casual meal that's surprising simple to prepare.
Ingredients
For the Sweet Potato Oven Fries:
4 large low sodium sweet potatoes (yams)
1 1/2 tablespoons canola oil
For the Salmon Burgers:
1 can 14.75-ounce pink or red salmon
2 green onions, chopped
1/2 cup chopped red bell pepper
8 crackers, unsalted tops (saltine-like), crushed
2 teaspoons lemon juice
2 Egg whites from 2 eggs, whisked
2 tablespoons plain low-fat yogurt
1/4 teaspoon ground black pepper
cooking spray
4 whole-wheat buns
8 leaves Bibb Lettuce
2 medium tomatoes (sliced)
1 tablespoon lemon pepper seasoning blend
Directions
Place oven rack in center, heat oven to 425°F.
Wash and scrub sweet potatoes, slice into wedges, length-wise.
In a large bowl, toss potato wedges with canola oil and seasoning.
Spread on cookie sheet. Roast in the oven, turning occasionally, until tender and golden brown, about 30-40 minutes.
While sweet potatoes are roasting, prepare salmon burgers. Drain salmon; place in a medium mixing bowl and flake.
Fold in green onions and red pepper, crushed crackers, lemon juice, egg whites and yogurt.
Shape into 4 patties.
Coat large nonstick skillet lightly with cooking spray; heat.
Cook salmon burgers until golden brown, turn, and continue cooking until other side is golden brown.
Serve burgers with sliced tomatoes and lettuce, and sweet potato oven fries.
Source: Produce For Better Health Foundation
Nutrition Information
Serving Size: 1/4 of the recipe
| Nutrients | Amount |
| --- | --- |
| Total Calories | 490 |
| Total Fat | 14 g |
| Saturated Fat | 2 g |
| Cholesterol | 45 mg |
| Sodium | 590 mg |
| Carbohydrates | 69 g |
| Dietary Fiber | 11 g |
| Total Sugars | 19 g |
| Added Sugars included | 3 g |
| Protein | 25 g |
| Vitamin D | 10 mcg |
| Calcium | 250 mg |
| Iron | 4 mg |
| Potassium | 2025 mg |