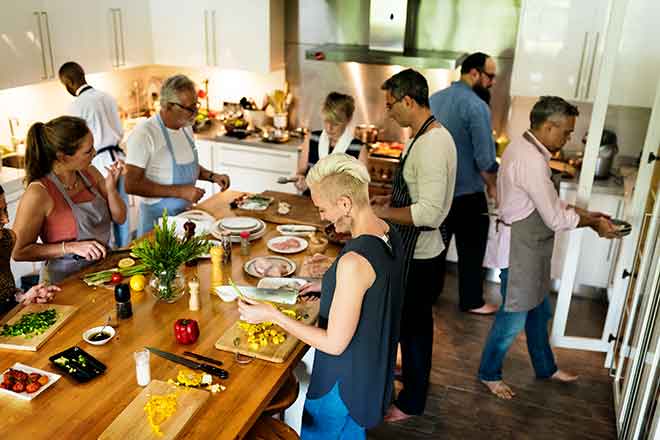 Published
Wednesday, February 10, 2021
Makes:12 servings
Full of fresh veggie flavor, these sloppy garden joes will be a fast favorite in your home. Serve on a whole wheat bun with a side salad for a complete meal.
Ingredients
1 yellow onion (chopped)
1 carrot (chopped or shredded)
1 green pepper (chopped)
1 pound ground turkey (or chicken)
1 can tomato sauce (8 ounces, unsalted)
1 can whole tomatoes (14.5 ounces, crushed)
4 cans mushrooms (2 ounces each, drained)
1/4 cup barbecue sauce
6 whole wheat buns (split in half to make 12)
Directions
Saute onions, carrots, green pepper and ground turkey or chicken in a pan over medium-heat for 5 minutes.
Add tomato sauce, crushed tomatoes, mushrooms, barbecue sauce, and seasonings and bring to boil.
Reduce heat and simmer for 10 minutes, stirring occasionally.
Uncover and cook for an additional 3 minutes or until thick.
Serve open-faced on toasted or plain whole-wheat buns.
Refrigerate leftovers within 2 hours.
Notes
You can also use 8 ounce of fresh mushrooms instead of canned.
Source: Garden Sloppy Joes, Food Hero, Oregon State University Cooperative Extension Service.
Nutrition Information
Serving Size: 1 sandwich (149g)
| Nutrients | Amount |
| --- | --- |
| Total Calories | 160 |
| Total Fat | 6 g |
| Saturated Fat | 1 g |
| Cholesterol | 28 mg |
| Sodium | 317 mg |
| Carbohydrates | 19 g |
| Dietary Fiber | 4 g |
| Total Sugars | 7 g |
| Added Sugars included | 4 g |
| Protein | 10 g |
| Vitamin D | 0 mcg |
| Calcium | 61 mg |
| Iron | 2 mg |
| Potassium | 343 mg |