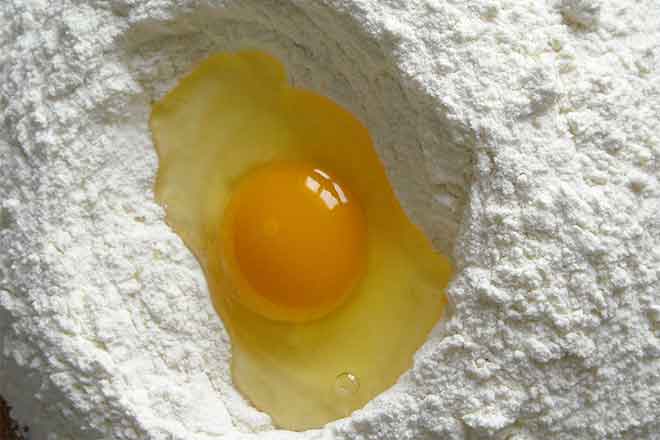 Published
Sunday, September 15, 2019
Makes: 6 Servings
Prep time: 20 minutes
Cook time: 1 hour
This lasagna is a delicious summer version of a popular comfort food that made its debut in Italy during the Middle Ages. Zucchini, also called "green Italian squash," is a highly anticipated spring vegetable in Italy and they have incorporated it into numerous recipes. It is often chopped or diced and added to pizzas, pasta dishes, soups, and salads.
Ingredients
2 1/2 ounces Mozzarella cheese, low-fat, shredded (2 1/2 oz. equals 1/2 cup plus 2 tablespoons)
1 cup Cottage cheese, fat-free
3 tablespoons Tomato paste, canned, low sodium
1 cup Tomato sauce, canned
1 teaspoon Oregano, dried
1 teaspoon Basil, dried
2 5/8 ounces Onions, fresh, peeled, 1/4" diced (2 5/8 oz. equals 1/2 cup plus 1 tablespoon)
2 cloves garlic, fresh, minced (1 clove is about 1/2 teaspoon minced)
1/4 teaspoon Black pepper, ground
1 1/2 cups Zucchini, fresh, unpeeled, thinly sliced
3 3/8 ounces Lasagna noodles, enriched, oven ready (6 sheets)
1 tablespoon Parmesan cheese, fresh, shredded
Nonstick cooking spray
Directions
Preheat oven to 350 degF.
Reserve 1/3 cup of mozzarella cheese and set aside for later use.
Make cheesy tomato sauce: combine remaining mozzarella cheese, cottage cheese, tomato paste, tomato sauce, oregano, basil, onions, garlic, and black pepper in a small bowl.
Divide zucchini evenly into two parts, about 3/4 cup.
Lightly coat a medium baking dish (about 8" x 8") with nonstick cooking spray.
Assembly:
First layer: Spread 3/4 cup of cheesy-tomato sauce evenly on the bottom of each steam table pan. Cover sauce with 3 sheets of oven-ready lasagna noodles. Then, cover noodles with 3/4 cup of zucchini slices.
Second layer: Repeat first layer.
Third layer: Top layers 1 and 2 with the remaining cheesy-tomato sauce (about 3/4 cup) and then finish by sprinkling on the reserved shredded mozzarella cheese (1/3 cup) and the parmesan cheese (1Tbsp)
Cover tightly with foil and bake until zucchini is tender, about 30 minutes.
Remove from oven.
Remove foil and bake uncovered until cheese starts to brown slightly, approximately 15 minutes. Heat to 140 degF for at least 15 seconds.
Let lasagna stand 10 minutes before serving.
Critical Control Point: Hold at 140 degF or higher.
Source: CACFP Multi-Cultural Recipe Project - Team Nutrition: Adapted from http://www.nhlbi.nih.gov/health/educational/hearttruth/downloads/html/fa....
Nutrition Information
Nutrients Amount
Calories 171
Total Fat 4 g
Saturated Fat 3 g
Cholesterol N/A
Sodium 434 mg
Total Carbohydrate 24 g
Dietary Fiber 2 g
Total Sugars N/A
Added Sugars included N/A
Protein 11 g
Vitamin D N/A
Calcium 68 mg
Iron 2 mg
Potassium N/A