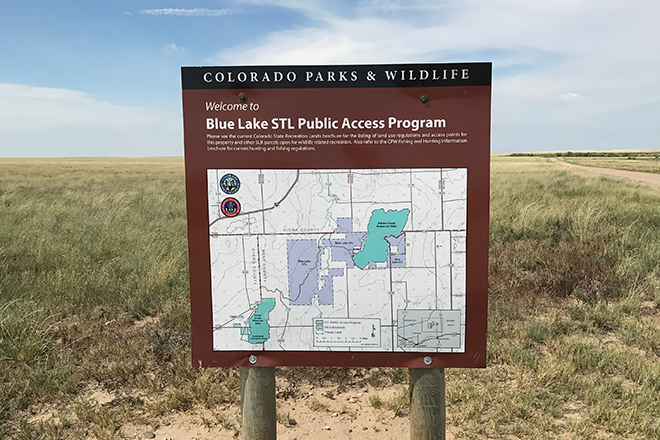 Published
Wednesday, October 3, 2018
Access to Adobe Creek Reservoir State Wildlife Area and Blue Lake State Trust Land southwest of Haswell will be severely limited until May 2019 due to repairs being made to the dam by its private owners.
Colorado Parks and Wildlife was informed of the road closure Tuesday by W.W. Wheeler and Associates, the engineering firm overseeing dam repairs at Adobe Creek Reservoir, which is also known as Blue Lake.
Adobe Creek Reservoir SWA is a 5,147-acre preserve, straddling Bent and Kiowa counties and located 11 miles north of Las Animas or 17 miles south of Haswell. The Blue Lake STL is 14,060 acres and only accessible by the dam road - Bent County Road UU.
The repair work will require closing the dam road until mid-May when the engineers expect repairs will be completed. The dam repairs are taking place in Bent County and were ordered by the Fort Lyon Canal Company, which was formed in 1897 and owns the lake as part of its 113-mile canal/irrigation system that serves 94,000 acres from Las Animas to Lamar.
CPW manages hunting and fishing at the wildlife area and does not own the property or any facilities. The wildlife area and trust lands are popular for warm water fishing and for hunting deer, dove, pheasant, pronghorn, rabbit, scaled quail and waterfowl.
"We wanted to get the word out as quickly as possible because we know this closure will disappoint a lot of hunters, especially with the weekend opening of the pronghorn season," said Travis Black, CPW area wildlife manager. "Unfortunately, we have no authority to delay the repairs or offer alternative access to the properties."