Image
Death Notice - John Max Yocam
Image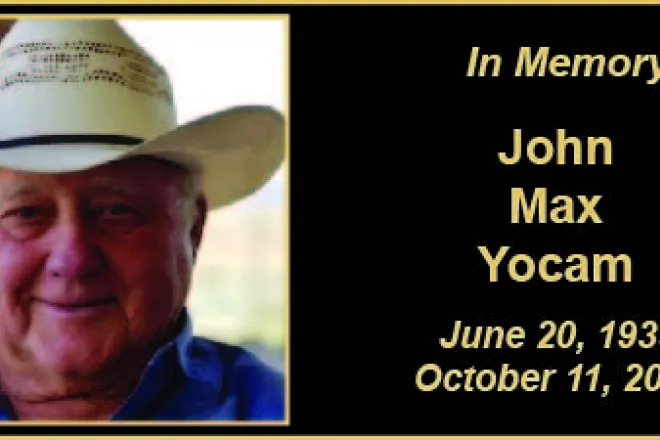 Max Yocam, 84, of Kim, passed away Wednesday, October 11, 2023, at South East Colorado Hospital in Springfield. He was born June 20, 1939, in La Junta to Clarence & Ella Mae (Collins) Yocam.
Max is survived by his wife Janice Yocam of the Kim home; children, Mark (Monica) Yocam of Perryton, Texaas; Michelle (Rick) Butler of Pritchett; Monty (Shelley) Yocam of Kim; grandchildren, Tasha (Brandon) Gray; Shelby Nava; Shawni (Bernie) Quintana; TyLin (Randy) Williams; Chelsea (Rafe) Schroder; Colton (Bam) Butler; Like (Emma) Winters; Bo Winters; Caleb (Ciarra) Yocam; Shandy (Charley) DeBerg; Montana (Robert) Quick; 19 great-grandchildren; sister, Madeline Banta; sister-in-law, Jennie Yocam; numerous nieces, nephews, and friends also survive. 
He is preceded in death by his parents; son, Michael Wayne Yocam; granddaughter, Tiana Yocam; brother, Gary Yocam; brother-in-law, Ralph Banta; niece, Katherine Yocam and great-niece, Carlye Yocam.
Visitation will be Monday, October 16, 2023, from 3:00 p.m. to 6:00 p.m. at Peacock Memorial Chapel in La Junta. 
Funeral services will be held Tuesday, October 17, 2023, at 10:00 a.m. at the Kim School Gymnasium in Kim. Interment to follow at Kim Cemetery.
Arrangements under the direction of Peacock-Larsen Funeral Home.