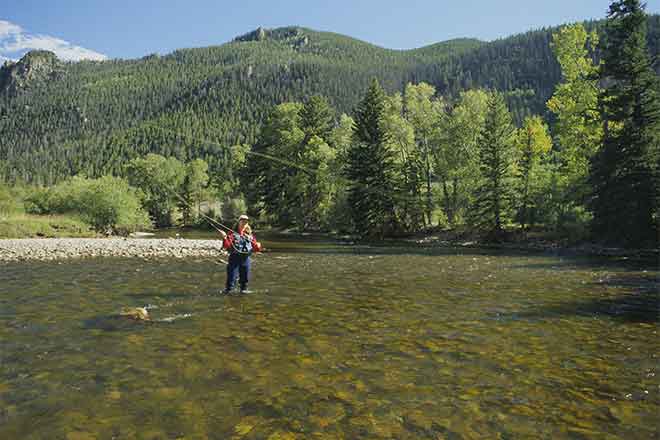 Published
Friday, July 20, 2018
Colorado Parks and Wildlife is lifting the mandatory fishing closure on the sixth-tenth mile section of the Yampa River below the dam at Stagecoach State Park, effective immediately.
Due to minimal snowpack this past winter resulting in low stream flow during the hottest time of the year, the agency implemented the closure on June 14 to protect the popular fishery.
Since then, CPW has been continuously monitoring conditions on this stretch of river.
"Due to contracted water release agreements between the Colorado Water Trust and Upper Yampa Water Conservancy District, this stretch has seen increased stream flows," said Area Aquatic Biologist Bill Atkinson. "That said, we will likely be enduring a hot, dry spell for the foreseeable future. We'll keep on top of conditions and will advise the public if anything changes."
CPW officials caution some form of angling restrictions could be reenacted should environmental conditions worsen.
When water flows are minimal, fish gather in residual pool habitat and become stressed due to increased competition for food resources. Under these conditions, fish become easier to catch, an added stressor that can result in increased mortality.
"Stream temperatures and dissolved oxygen concentrations within the tailwater fishery of the Yampa River downstream of Stagecoach dam are more favorable to trout as compared to river segments further downstream," said Atkinson.
Atkinson reminds anglers there are things they can do to lessen stress to fish during the hottest part of the year.
"Fish early when it's cooler, and take care when handling fish," he said. "Land them quickly, handle them gently with wet hands, or use a net, then return them to the water as soon as possible."
The voluntary fishing closure on the Yampa River from the Chuck Lewis State Wildlife Area to the western town limits of Steamboat Springs remains in effect.
Anglers are encouraged to call their local CPW office for the latest information related to fishing closures, fishing conditions and alternative places to fish.