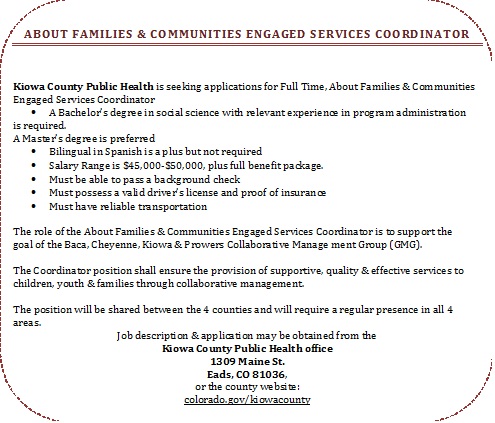 Published
Sunday, March 27, 2016
About Families and Communities Engaged Services Coordinator
Kiowa County Public Health is seeking applications for Full Time, About Families and Communities Engaged Services Coordinator. The role of the About Families and Communities Engaged Services Coordinator is to support the goal of the Baca, Cheyenne, Kiowa and Prowers Collaborative Management Group (CMG). The Coordinator position shall ensure the provision of supportive, quality and effective services to children, youth and families trough collaborative management. The position will be shared between the four counties and will require a regular presence in all four areas.
A Bachelor's degree in social science with relevant experience in program administration is required. A Master's degree is preferred.
Bilingual in Spanish is a plus but not required.
Salary Range is $45,000-$50,000, plus full benefit package.
Must be able to pass a background check.
Must possess a valid driver's license and proof of insurance
Must have reliable transportation.
Job description and application may be obtained from the Kiowa County Public Health office at 1309 Maine St. Eads, CO 81036, or on the county website www.colorado.gov/kiowacounty.
The position will be open until filled. Applications and resumes with a cover letter can be mailed to:
Kiowa County Commissioners
ATTN: About Families and Communities Engaged Services
P.O. Box 100
Eads, CO 81036
Or they can be emailed to: