Image
Funeral Services – Mary Jo Tallman
Image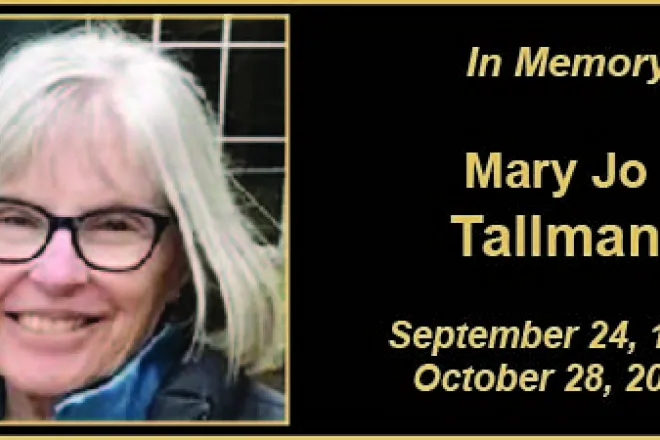 Mary Jo Tallman was born September 24, 1951, in Bradford, Pennsylvania, and departed this life October 28, 2022, in Colorado Springs following a brief illness.
She was preceded in death by her parents and two sisters-in-law, Rebecca Tallman and Linda Tallman.
Mary Jo is survived by her husband, Douglas Tallman of Brandon; children, Brooke (Matt) Campbell of Cheyenne Wells, Courtney (David Budler) Tallman of Colorado Springs, and Nolan (Jane) Tallman of Cheyenne Wells; eight grandchildren; sisters, Margaret Susan (Charles) Veselits and Mary Frances (Barry) Anderson; brothers, Robert (Deborah) Smith,  Thomas (Sonya) Smith, and Timothy (Joyce) Smith, brother-in-law, Dusty (Charlotte) Tallman; and numerous nieces and nephews and cousins and other relatives.
The Holy Rosary will be prayed Wednesday, November 9, at 6:00 p.m. at the Sacred Heart Church in Cheyenne Wells. 
A Funeral Mass of Christian Burial will be celebrated Thursday, November 10, at 10:00 a.m. at the church. Burial will follow at 2:30 p.m. in the Brandon Cemetery in Brandon.  
Memorial contributions may be made to the Mary Jo Tallman Memorial Fund in care of the Eastern Colorado Bank, P.O. Box 888, Cheyenne Wells, CO  80810.
Arrangements are under the direction of Brown Funeral Home.