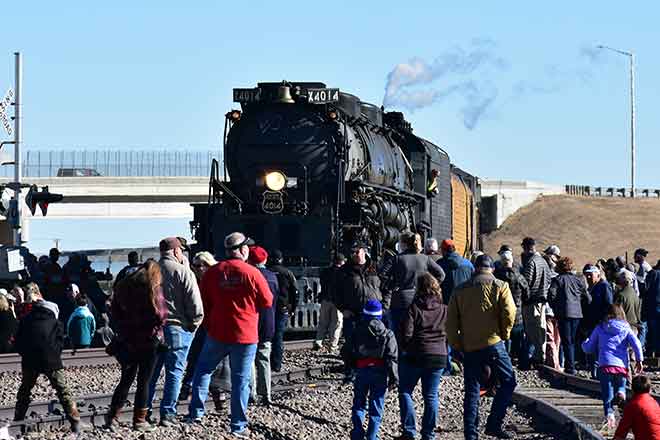 Published
Saturday, November 23, 2019
Hundreds of people from across southeast Colorado turned out in Kit Carson Saturday morning to see a steam-powered locomotive.
Union Pacific's Big Boy steam locomotive No. 4014 rolled into town shortly after 10:00 a.m. on its return route to Cheyenne, Wyoming. The locomotive, believed to be the only operating Big Boy in the world, has been marking the 150thanniversary of the completion of the first transcontinental rail line in the United States.
The historic locomotive left Cheyenne September 27 on a route that has taken it to stops in Utah, Nevada, California, Arizona, New Mexico, Texas, Arkansas, Kansas, Missouri and Colorado. Barring delays, Big Boy will complete the tour back in Cheyenne Tuesday afternoon.
Over the past two years, Union Pacific has been restoring the locomotive in preparation for the anniversary tour.
American Locomotive Company built Union Pacific's 132-foot long Big Boy in 1941 - one of 25 produced for UP between 1941 and 1944. It remained in freight operation until 1959, and was officially retired in 1961 after traveling more than one million miles during its 20-year life.
Restoring the engine included converting it from coal to fuel oil, as well as fully disassembling it to repair or replace parts. No. 4014 moved under its own power May 1 - the first time it had done so in 59 years.
Earlier this year, after restoration was completed, No. 4014 partly derailed. Driver axles number 2 and 3 fell into the gauge as the engine entered the rail yard in Rawlings, Wyoming. According to trains.com, the track was repaired and wheels re-railed in about three hours.
The Big Boy locomotives were built to pull freight over the Wasatch Mountains in Utah to Wyoming before being reassigned to another Wyoming route.
Eight of the original locomotives survive. No. 4014 is the largest, most powerful steam locomotive in the world.