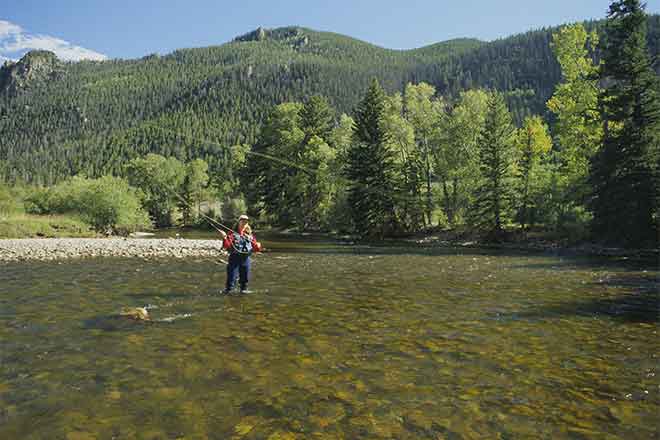 Published
Friday, August 3, 2018
Fishing Closures in Colorado
Due to high water temperatures and low flows, Colorado Parks and Wildlife is implementing voluntary fishing closures on several stretches of rivers in Colorado. The fishing closure are effective immediately, until further notice.
Although anglers are not legally prohibited from fishing in these stretches, CPW is asking anglers to fish early in the day and find alternative places to fish until conditions improve.
Contact the closest Colorado Parks and Wildlife office for more details.
Northwest Region
Voluntary Closures Between 2 p.m. and Midnight
Read the full voluntary fishing closures in Northwest Colorado press release .
Full-time Voluntary Closures
Closures NO LONGER in Effect
A mandatory fishing closure in place at the tailwater of the Yampa River has been rescinded (see 7/19/18 news release).
Conditions Report - Statewide
Rivers and Creeks
With the warm dry conditions we have been experiencing this year the rivers and creeks across the state are experiencing much lower flows and higher water temperatures than normal. Fishing for trout should be focused to the coolest parts of the day, fishing early in the morning when the water temperatures are cooler from overnight is recommended. Nymphs and emergers have been productive patterns throughout the state. For the dry fly fisherman mid-summer means terrestrials! Ants, hoppers, and beetles have been consistently producing fish. Keep in mind that when water temperatures rise near 70 degrees trout are at their most vulnerable, it is important to play and land the fish as quickly as possible and waste no time removing the hook and returning the fish to the water. Looking forward to fall we have multiple fall spawning fish that will become active shortly, keep an eye on future reports for kokanee runs and brown trout spawn reports.
Colorado Fishing Atlas
Conditions Report - Northeast Colorado
Eleven Mile State Park
As of 8/1/2018 Trout-Very Good-Action report all over the reservoir, High counts of fish under 16 inches with several larger than 20 inches reported being caught trolling still seems to be the best approach for catching fish. Salmon-Slow-Try main channel 30'-35' near Deer and Duck Island. Trolling with Cowbells, Needle Fish or Dodger Squid. Northern Pike Fair- Underwater vegetation along south shore. Switch up your colors often to get the most action.
Eleven Mile State Park
Boyd Lake
Aquatic Nuisance Species Inspection hours for the month of May are 6:00 am-10:00 pm daily. As of 7/30/2018 water temperatures are in the mid 70's fishing has been slow for trout. The crappie and white bass seem to have transitioned a bit deeper and are being caught in the main lake. Walleye fishing has been good using jigs or trolling the deeper sections of the lake. Reminder -No fishing from marina slips or docks (next to is okay but can't use them in any way.
Boyd Lake
Spinney Mountain Reservoir
As of 8/2/2018, Trout-Very Good-Flies are doing very well this week with several 23 to 25 inch fish reported. Chronomid flies, Green and Brown being favored colors, Tube jigs, Tasmanian Devils are working well. Northern Pike-Good-North end along sandbar, a few over 45 inches. Rapalas & Crocodiles, Pink/silver spoons are working.
Spinney Mountain State Park
Barr Lake State Park
As of 7/29/2018 activity has picked up the past couple weeks. Walleye are regularly being caught throughout the lake and from shore. Reports of smaller fish being caught have increased, so have a tape measure ready to make sure it's legal! Wiper are feeding on the shad in the reservoir. Carp fishing has been consistent for the people targeting them.
Barr Lake
Jackson Lake
As of 7/31/2018 Lake level is dropping every day approximately an inch a day. Surface water temperature is approximately 79 degrees. We are open to boating. Fishing has been fair to good for crappie, wiper and walleye.
Jackson Lake State Park
Conditions Report - Southeast Colorado
Arkansas River-Lake Pueblo
As of 7/25/2018 not much has changed on the tailwater in the last few weeks. The river below the dam is running a lot lower than in past years. The flows have been between 250 and 700 cfs. Caddis, midges, and a few blue wing olives have been making up the hatches recently. Streamers and spinners can also be effective. The river is tinted green right now with about 18 inches of clarity. This bodes well, as anglers can use heavier tippet/line during this time as the fish are not as leader shy during the higher flows.
Lake Pueblo State Park
Trinidad Reservoir
As of 7/30/2018 The lake is at 738 surface acres with a surface elevation of 6185.30. Surface water temps around 72 degrees. Shore fishermen are catching trout on homemade dough bait, PowerBait (green color) and worms all along south shore. Reilly Canyon river has slowed down to a trickle and sandbars starting to emerge around the lake. The most action for fish is occurring in the early mornings and late evenings. Some catfish are being reported around the inlet. Boaters have done well targeting walleye. Smallmouth caught early in the morning and late evening. Trout are caught during all hours. Worm harnesses and crank baits have worked well. Fish are being found around 15-25ft. The shallow water tends to be to warm for fish during the majority of the day, the technique has been to find the deep channels where colder water exists or wait for cooler morning and evening temps. BOATING ALERT: Due to water being released, boaters be aware of underwater hazards. Not all hazards will be marked.
Trinidad Reservoir
Lake Pueblo
As of 7/25/2018 Surface temperature is 76 degrees. Fishing reports have been fair for bass. Anglers are reporting fair success using soft plastics. Walleye are being caught trolling using bottom bouncers and vertical jigging techniques over the top of structure. Fish are deeper at this time of year, as the water warms up, so anglers should focus on fishing deeper during the day and early and late in the day as well. Boaters are reminded that the boat ramps open at 5 AM and close at 11 PM daily.
Lake Pueblo
John Martin Reservoir
As of 7/23/2018 due to a low water year throughout the state and the Arkansas River drainage water levels are dropping and the fishing has been tougher. Walleye fishing is slow with water temperatures in the mid 70's. Fishing for white bass and wiper can be good if anglers are able to figure out where the bait that these fish are feeding on is located. Crappie fishing has also slowed drastically as the water temperatures have forced the fish into deeper water.
John Martin Reservoir State Park
Lathrop State Park
As of 7/24/2018 the surface temperature on Martin Lake is around 72 degrees. Visitors have been fishing from shore and on boats. With warming weather, Martin Lake has seen increased boat traffic on the weekends. Trout are not as active and will move to deeper water during the heat of the day. However, fishermen still have success using PowerBait and similar products. One visitor reported catching a 14 inch trout near the Martin inlet. Warm water fish, like bass and sunfish are active in the mornings and may be found guarding spawning beds near the shore this time of year. Several northern pike have been reported. Visitors are using a variety of bait to catch pike including stick bait lures, such as Rapala lures. The surface temperature of Horseshoe Lake is about 69 degrees. Visitors are having some success fishing from the dam for smallmouth. The smallmouth bass start to move around in the morning as the water heats up and have been seen feeding from the surface. Small rubber spider or other top water bait could produce exciting catches during those times.
Lathrop
Conditions Report - Metro Denver Area
Aurora Reservoir
This 762-acre impoundment is located off of E. Quincy Avenue, two miles east of E-470. As of 8/1/2018 Water temp is 69 degrees. Trout fishing from shore is slow. Occasionally we have received a good report using PowerBait off the dam. Boaters reporting fair to good conditions on trout trolling with crawlers and lures. Some nice trout in the 18 -21 inches range have been caught recently. Walleye action from boats is slow to fair with an occasional good report. Some reports of largemouth being caught on top water lures. Restricted to electric motors only. For more information call 303-326-8425. Park hours August 5:30am-9:00pm.
Aurora Reservoir
Cherry Creek
This 881-acre impoundment is located in Cherry Creek State Park, in Aurora. There are two entrances to the park, the east entrance off S. Dayton St. and the west entrance off S. Parker Rd. As of 7/30/2018 water temperature is 74 degrees the trout have been tougher to catch but some success has been reported using nightcrawlers along the bottom. Walleye fishing is good but can be tough with the large amounts of shad present in the system.
Cherry Creek Reservoir
Quincy Reservoir
As of 8/1/2018 Water temp is 69 degrees. The water level is good. Bass fishing is rated as slow to fair. Some reports of top water lures working just outside the weed line. Try fishing just outside the weed lines in 10-15 feet of water. Reports of small yellow perch being caught using jigs. Park Hours for August 5:30am-9:00pm. Restricted to artificial flies and lures only. Electric motors only and hand launched watercraft only-trailers and vehicles prohibited in the water. For more information call 303-326-8424.
Quincy Reservoir
Chatfield Reservoir
This 1,356 impoundment is located in Chatfield State Park, as of 7/31/2018 water temperature is 71 degrees. Trout fishing has slowed with the warmer water temperatures. But are still being caught at various locations around the lake. Fishing for smallmouth has been fair during the low light periods of the day using top water baits. Walleye fishing is slowing as well with the warm water temperatures. Look for fishing to pick up as we approach fall and water temperatures drop.
Chatfield Reservoir
Conditions Report - Northwest Colorado
Rifle Gap Reservoir
As of 7/31/2018 Perch fishing has been good using various baits throughout the lake. Walleye fishing has been good if you can find the fish on structure throughout the lake. Trout fishing has been fair to good with the recent stockings. Special fishing regulations at Rifle Gap Reservoir include a bag and possession limit of 1 walleye 18 inches or greater; bag and possession limit for yellow perch is 20.
Rifle Gap Reservoir
Vega
As of 7/25/2018, Fishing is excellent with anglers reporting PowerBait and small silver or gold spinners the most successful baits to use. Early Settlers boat ramp is CLOSED for the season. Oak Point and the Island boat ramps remain open at this time. The lake level is receding rapidly. Don't forget to stop at the entrance and have your boat inspected prior to launching. The ANS inspection station is open from 6:00am to 8:30pm 7 days a week.
Vega
James M. Robb
As of 7/23/2018 Trout fishing has slowed down with the warm weather but fishing for sun fish and bluegill is good. Please ensure the responsible and ethical release of fish. Trash cans are available to dispose of fishing line.
James M. Robb State Park
Stagecoach State Park
As of 7/28/2018 the lake is starting to experience some algae blooms which can make the fishing tougher with decreased water clarity. Some pike have been caught on various baits along the edges of the weed beds. Trout fishing has been good using lures like in-line spinners or spoons for the larger fish.
Stagecoach Reservoir
Conditions Report - Southwest Colorado
Blue Mesa Reservoir
This 8,900 acre reservoir is located west of Gunnison. As of 8/1/2018, water levels are much lower compared to last year and concentrating the fish. Kokanee Salmon fishing has been fair while jigging. Colors that have been producing fish are pink, orange, and chartreuse. Smaller lake trout are being caught at the deeper depths of the water column. Perch fishing has also been good along the rocky sections of shoreline. Anglers can check on current conditions and boat ramp inspection schedules by contacting Curecanti National Recreation Area at (970-641-2337).
Blue Mesa Reservoir
Mancos
As of 7/22/2018 Mancos is a great place for consistent action from trout and yellow perch. Most of the trout action is from 10-12 inch fish, but there's very good opportunity at an 18-20 inch trout and a few 12 inch-plus perch. Great opportunity for kids to catch fish. Most anglers are finding success with bait (PowerBait, eggs, and crawlers) fishing just off bottom or under a slip bobber. For a chance at the yellow perch and trout, a small jig fished under a bobber on a long leader and tipped with a piece of worm is a good bet. Casting or trolling typical in-line spinners (Panther Martins, Mepps) from boats is another approach at the trout. Hand-launchable boats (non-motorized kayaks, canoes, belly boats, etc) are a great way to fish the lake in this off-season. This is the first year in more than 15 years that the lake has not gotten decent ice to fish.Mancos State Park
Mancos State Park
Taylor Park Reservoir
As of 7/30/2018 the water level is a bit lower than in years past. Water temperatures are in the mid 60's fishing has increased some for trout with recent stockings, baits fished off the bottom in 20 feet of water. Lake trout have been tough but the deeper portions of the reservoir is where those fish can be caught using nightcrawlers off the bottom. Pike have been caught anywhere in the reservoir that has good weed growth. Many of the pike caught have been small in size.
Taylor Park Reservoir
Navajo Reservoir
As of 8/1/2018 Fishing at Navajo Lake has been good. Small mouth bass fishing has been good in the main channel where the water temperature is a bit cooler. Many large Pike have been reported being caught using bait fish lures. Catfish fishing has been good by Windsurf beach area. The boat ramp at Two Rivers Marina is in good shape, and launching is good. Ice snacks and ice cream are available at the Visitor Center. The Marina store at the Arboles boat ramp has been moved to the Visitor center due to low water conditions. Ice, ice cream, drinks and snacks are available at the visitor center. Gasoline is not. The boat ramp and ANS inspection station remain open. Colorado and New Mexico fishing licenses for the 2018-2019 season are now on sale and are available at the Visitor Center. Social security numbers are required for license purchase. ID is required for purchase of all Colorado licenses. Please remember to bring sunscreen, insect repellent and clothes appropriate for changes in the weather.
Navajo State Park