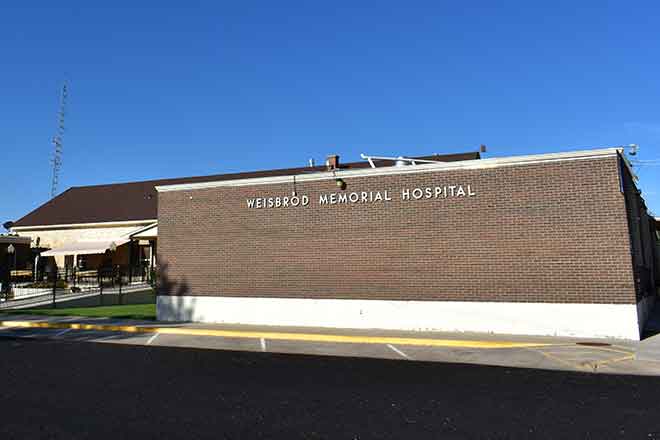 Published
Tuesday, June 14, 2022
RECORD OF PROCEEDINGS
BOARD MEETING
March 22, 2022
The Kiowa County Hospital District Board met in regular session on March 22, 2022, at 6:30 p.m. at Cobblestone Inn Meeting Room.
District Board members present were: Mary Eikner, Claire Prince, and Craig Kerfoot. Absent -Ken Flory and Kevin Davis.
Others present: Shannon Dixon, Matt Prince, Junior McDowell, Jeanette Filpi, Rachel Bletzacker, Renay Crain, Shaelynn Compton, Cindy McLoud, Pam Cole, Rich O'Brian, Diane O'Brian, and Beth Spady.
CALL TO ORDER
The meeting was called to order by Craig Kerfoot, Chairman of the Board at 6:30 pm.
APPROVAL OF MINUTES
A motion was made by Mary Eikner to approve the February 22, 2022 minutes as presented. Motion seconded by Claire Prince. All aye.
PUBLIC COMMENT
There was no public comment.
PRESENTATION
Debbie Edwards with Docs Who Care (DWC) visited with the Board about the services they provide KCHD. DWC has been in business for 27 years and focuses on rural critical access hospitals in six states. In addition to provider coverage, DWC is assisting with or has assisted with Chief of Staff responsibilities, Quality Improvement programs and upgrades to KCHD housing. Next month, members of DWC clinical staff will be available to visit with the Board.
CREDENTIALING
Dr. Benjamin Clower was approved for temporary privileges by Med Staff. Dr. Jodi Fitzgerald, Dr. Lori Thorndike, and Dr. Mark Flora were approved for active privileges by Med Staff. Motion to approve as presented by Mary Eikner. Seconded by Claire Prince. All aye.
Med Staff Bylaws Section 7.3 was amended to update the list of current providers that can perform medical screening examinations. Motion made by Mary Eikner and seconded by Claire Prince. All aye.
POLICIES & PROCEDURES
There were no policies and procedures to present this month.
STANDING REPORTS
CEO
Staff are receiving weekly email updates each Friday and we continue to have morning meetings.
Several positions at KCHD have been filled but we continue to recruit for several other open positions. To support these efforts, several changes have been made. The premium pay policy has been extended to the dietary, housekeeping, and laundry departments. The minimum wage for positions at KCHD has been increased to $14/hr. KCHD has implemented a recruitment bonus. The parameters are being established but the plan is to make these payments incrementally over the course of one year.
The clinic is under construction. The trailer will be returned when the renovations are complete.
Staff are performing several operational assessments to include waste management, a mock survey at the clinic, review of our group purchasing organization (GPO), third party payor contracts, medical records, and the 340B program.
Provider relief funds will be used to purchase equipment to help with testing and mitigation as well as to support staff in the form of a bonus.
KCHD staff and guests continue to wear masks as the new CDC guidelines do not apply to the healthcare setting.
With the upcoming election, we are looking to provide Board orientation and education possibly in collaboration with the Board in Prowers County.
The CEO recruitment process will be postponed until the new Board has been elected.
CFO
The Board received a written report from the CFO.
The February financials were reviewed and showed a profit for the month and year to date. In February, days cash on hand was 230 and days in AR was 100. The audit should be finalized soon, and we expect the auditors will present to the Board in either May or June.
The Board reviewed a full-time equivalent report pertaining to staffing in each department.
KCHD would like to purchase several items using the provider relief funds. A new medical grade refrigerator/freezer for vaccines at the clinic which should cost around $8,320, a fit testing machine estimated at $16,450, and a generator for the clinic for about $11,995. A motion was made by Mary Eikner to purchase all three items. Motion was seconded by Claire Prince. All aye.
CNO
KCHD is expecting two additional international nurses to join us in April of 2022.
Staff are working closely with the pharmacy consulting group to evaluate the 340B process.
The call light system is working but we continue to work with Athena towards full integration.
Staff have had discussions with EHC Consulting on providing additional educational opportunities for staff to include mock code blues as well as the ACLS, PALS, and ATLS classes.
HOSPITAL QUALITY, SAFETY, & COMPLIANCE
The Quality Report Scorecard was reviewed. Various measures including infection rate,
medication errors, and falls were reviewed by the Board.
CLINIC
KCHD is reviewing job descriptions along with policies and procedures to identify areas where we could improve our process and increase volume as well as patient satisfaction.
Several procedures such as joint injections, sutures, and biopsies will now be performed at the
hospital.
OLD BUSINESS
HOUSING DEVELOPMENT
The old ambulance building has been demolished. The survey has been completed but we need
the final report. Everything is progressing as scheduled.
ELECTION
After consulting with the Special District Association and the State, there will be some limitations on what resources KCHD and the Fire District can combine for the election. KCHD and the Fire District will coordinate and share resources where allowed. The ballot has been certified.
NEW BUSINESS
BOARD BYLAWS
The Board received the revised bylaws which reflect the requested changes to the posting
timeframes. Meeting notices should be posted 72 hours prior to the meeting but would allow for 24 hours' notice if needed per the Special District Association guidelines. Motion by Mary
Eikner, second by Claire Prince. All aye.
ADJOURNMENT
The meeting was adjourned at 7:49 pm.
Respectfully submitted,
Kiowa County Hospital District Board Mary Eikner, Secretary-Treasurer