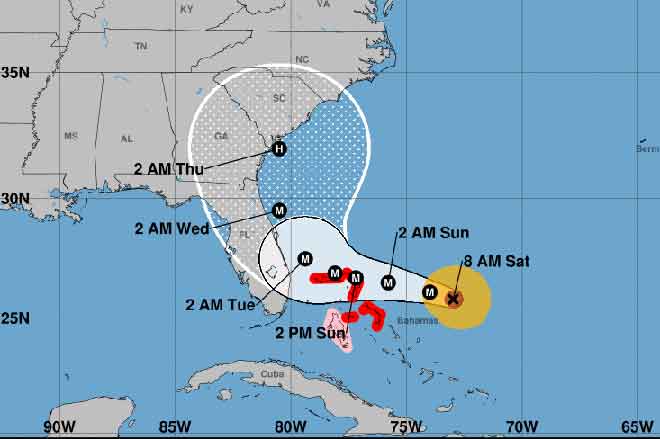 Published
Saturday, August 31, 2019
By John Haughey | The Center Square
When Floridians were first alerted on Tuesday that they were in a tropical system's "cone of uncertainty," then-tropical storm Dorian's preliminary projected landfall was Sunday morning somewhere along the state's Atlantic coast.
By Wednesday, that forecasted landfall was estimated to occur mid-day Monday near Melbourne. On Thursday, landfall was projected be mid-day Monday.
But with a change of directory overnight, Hurricane Dorian, with 145 mph winds, might not make landfall until as late as Wednesday, and might not hit Florida directly. If the current trajectory holds, Georgia and the Carolinas face the brunt of the storm.
But that doesn't mean Florida is in the clear. The now Category 4 hurricane could still turn west, forecasters say.
President Donald Trump warned Americans along the southeast coast to "prepare and be safe" in a Tweet early Saturday.
"It is important to heed the directions of your State and Local Officials," he tweeted. "This is an extremely dangerous storm."
If Dorian comes ashore as a Category 3 or 4 storm and strikes Florida, it would be the most powerful hurricane to hit the state's east coast since Hurricane Andrew devastated South Florida 27 years ago.
Florida Gov. Ron DeSantis declared a state of emergency Wednesday for 26 counties, primarily along the state's Atlantic coast. On Thursday, he extended emergency status to the entire state and sent a letter to President Trump seeking a federal emergency declaration. Georgia Gov. Brian Kemp did the same.
Trump on Friday declared a state of emergency and ordered federal assistance to supplement state and local efforts in preparing and responding to the hurricane.
The White House said Trump's emergency declaration authorizes the Department of Homeland Security and the Federal Emergency Management Agency to coordinate all disaster relief efforts.
On Thursday, Trump cancelled a weekend trip to Poland to commemorate the 80th anniversary of the end of World War II in Warsaw. Vice President Mike Pence will go in his place.
Trump said he would monitor the storm from Camp David to "ensure all resources of the federal government are focused on" preparing for, and then responding to, Dorian.
"It's something very important for me to be here," he told reporters in the Rose Garden Friday. "The storm looks like it could be a very, very big one indeed."
DeSantis said Florida Power & Light [FPL] has brought in 14,000 workers from out-of-state and has pre-positioned them to restore power as soon as Dorian passes.
"We expect a lot of rain. Losing power is big probability also. You should assume there is going to be power loss if you're in the path of this storm," he said. "If you're in an area prone to flooding, you're likely to see that with this storm."
DeSantis had not ordered any evacuations, but said if he does so, he expects people to follow his directive.
"If you're in an evacuation zone and told to evacuate," he said, "you need to heed that call and protect yourself and your family."