Image
Obituary – Hazel Irene Krueger
Hazel Irene Krueger
February 17, 1924 - April 8, 2022
Hazel Irene (Jacobs) Krueger was born the fifth of nine children February 17, 1924, on the family farm to John and Elsie (Neiman) Jacobs. She grew up on the farm located in the Cheyenne County Prairie Queen Community 20 miles Northwest of Eads. 
She died of natural causes at age 98 in Eads.
Image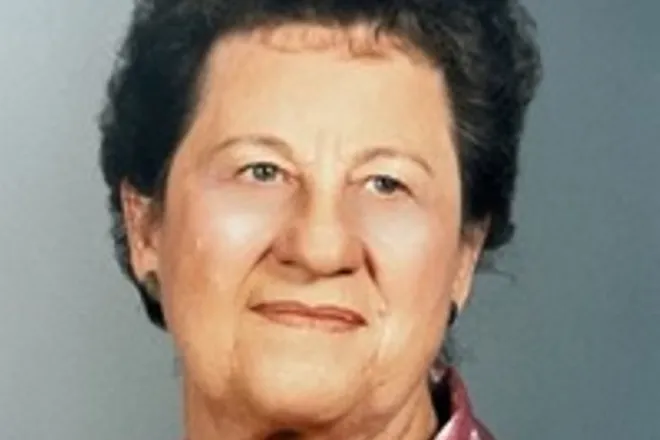 Most of her childhood was spent on the farm except for the year during the dust storms when the family moved to Pennsylvania. The kids promised their parents they would really work hard if they could please move back to Colorado. She spent many hours working outdoors – milking cows, shocking and hauling hay, shucking and shelling corn, pulling weeds, etc. She also found time to spend in the kitchen cultivating a joy of cooking and baking. Life on the farm was not all work. There was time to play and ride horses.
Hazel graduated eighth grade from South Star School. 
In January of 1939, she went to Denver to work at Fitzsimons's Army Hospital serving meals in the officer's dining room and working in the kitchen. In the evenings she went by bus and streetcar to Emily Griffith Opportunity School to study business, arithmetic, bookkeeping and typing. 
One of the great highlights of her early life was traveling all the way to New York City in the fall of 1941 to watch a World Series game.
In the late fall of 1946, Hazel returned home to run the café in Kit Carson where she met Everette (Gene) Krueger. They were married in Denver October 6, 1947. Quitting the restaurant business, they moved into an old house in Kit Carson and remodeled it. Hazel also cooked for the hot lunch program in Kit Carson for three years.
David Eugene was born November 5, 1949, and Karen Kaye was born on March 19, 1951, at Weisbrod Hospital in Eads. 
In January of 1952, the family moved to Denver, where Gene worked as a roofer, Denver Police Officer, and carpenter, while Hazel kept the home fires burning. For a year, she also kept many foster babies. Nancy Irene was born April 3, 1960, and then Monte Gilbert December 5, 1963. 
In the early 1960s, Hazel went to cake decorating school and had a cake business making wedding and other cakes.
The family moved again in December 1974 to Gunnison, where they operated the Dos Rios Motel and Restaurant until January 1977, with Hazel working in the restaurant 18 hours a day. 
They then moved to Denver. In 1979, Gene and David built a house on seven acres near Alma and Fairplay. They moved into the home in 1979, where Hazel learned to love to fish. She was active in the South Park Church. 
In 1982, they had to move to Sidney, Nebraska, to run and restore a motel for over a year. When it sold, they moved back to Fairplay. 
In 1987, Gene and Hazel moved to Eads, where they remodeled, built, and moved into many homes. 
In 1989, Gene bought the Country Manor Motel and Restaurant, where Hazel ran the restaurant for seven months, then leased it. In 1996, they sold the motel, and in 2006 they sold the restaurant.
Hazel became a member of the United Brethren Church. She later moved her membership to E.U.B. Alameda Heights, returning to United Methodist Church in Eads. Hazel found strength through the church and Christian fellowship. 
She also found joy in many things including cooking, baking, gardening, reading, babies, crossword puzzles, Rockies baseball, quilting, scrabble, bridge, and many other games.
Hazel is preceded in death by her parents, John and Elsie Jacobs; brothers, Leonard Lee (baby), LeRoy, Edgar, George and Frank; sisters, Louise Siefkas, Sara Bottorff, and Ruthanna Jacobs; daughter, Nancy Derby; and husband, Gene Krueger.
She is survived by her grandchildren, Amy (Mark) Weirich of Eads, Kourtney Richards of Eads, Kendra (Jon) McKibben of Eads, Bryton (Erin) Derby of Rifle, Mariya Krueger of Redmond, Washington, and Justin Krueger of Grand Junction; son-in-law, Fred Derby of Eads; nine great-grandchildren; six great-great-grandchildren; and many nieces, nephews, cousins, and friends.
Celebration of life services for Hazel Krueger will be held at United Methodist Church in Eads April 23, 2022, at 2:00 p.m. Pastor Travis Walker will officiate the services. Charlotte Woelk will provide the piano instrumental music, accompanied by Lennie Bottorff and his wife, Sylvia. At the conclusion of the service,  the entire congregation is to sing "When the Roll is Called Up Yonder." This is a special song to the Jacobs family, as it is tradition in the family to sing this song at the end of each family member's memorial service.
A memorial meal is to be provided by members of the United Methodist Church. 
In lieu of flowers, donations can be made to The Friends of the Colorado Talking Book at https://www.friendsofctbl.org/donationform.html
Arrangements are under the direction of Brown Funeral Home.