Image
Obituary – Mary Cathileen Beek
Image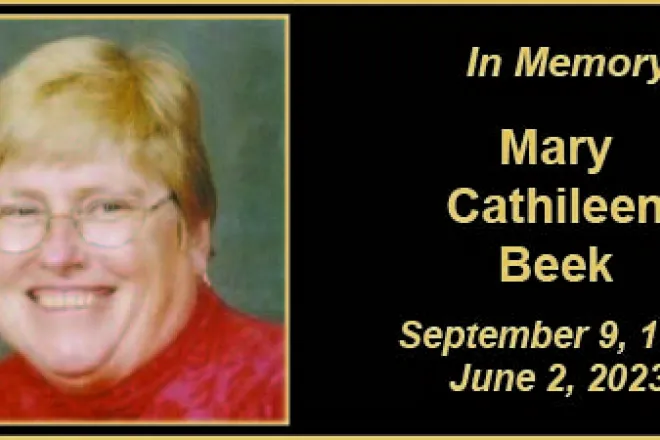 Remembering Cathileen
Harold and Mary (Darnall) Beek welcomed their first bundle of joy, Mary Cathileen, into the world September 9, 1946, calling her Cathileen. Her first home was located 22 miles north of Cheyenne Wells,. Three years later, her whole world changed when Mom and Dad brought home twin sisters, Carey and Karen, and moved the family to a farm seven miles north of town. There, Cathileen spent the rest of her childhood days loving and caring for all the baby farm animals. She could often be found carrying around a baby bird wrapped in her doll's blanket or trying to convince Mom into letting her feed the tiny bunnies or kittens with her baby bottle. When she was eight years old, brother Lynn joined the family, and she could transfer all those nurturing instincts to a real live doll.
The family grew and worshiped together in the United Methodist Church. She was baptized April 6,, 1947.  December 6, 1961, Cathileen, along with her mom, officially became members.
Cathileen delighted in summer! She loved big Fourth of July parties, family picnics with the cousins, homemade peach ice cream, and fishing trips to Bonnie Dam. David Darnall, her cousin, recalls the time they brought home a mess of catfish in a wet gunny sack and put them in a stock tank. They played with those that survived until Mom introduced the fish to a hot skillet. 
Cathileen also enjoyed being on the farm and helping Dad. If ever she was assigned an inside chore, and the twins an outside one, she'd strike a deal to trade – and always seemed to maneuver the trade to her advantage. As Cathileen got older, she started driving the tractor for Dad while he fed cows, which led to her summer employment of tractor driving.  She would run into town of an evening to play on Larry Beek's softball team.
After graduating high school in 1964, Cathileen attended Otero Junior College. She graduated with an Associate's Degree and transferred to UNC Greeley, where she obtained her bachelors in education. 
She began her teaching career by starting the first kindergarten class for the Arapahoe School. The next year found her moving to the Pine Ridge Reservation in Batesland, South Dakota. She taught kindergarten through eighth grade physical education, coached volleyball and basketball, drove the activity bus, and often ran basketball tournaments. Later, she added adult education classes to her repertoire, traveling all over the reservation and making many lifelong friends. 
Cathileen loved her job there and was recognized as an honorary member of the Sioux tribe (which allowed her to carry a gun for her protection, after the Wounded Knee Uprising). Eventually, she made the hard decision to move to the Southern Ute Reservation in Ignacio, where she taught for another six years.
Then, her sister, Carey, talked her into changing careers and joining the United States Postal Service. After passing her civil service test, Cathileen began working as a part-time clerk in the Cheyenne Wells Post Office. When a full-time position opened in the city of Lamar, Cathileen once again "left the nest" and began moving through the ranks of the postal service. She became a postmaster in Kim, transferred to Eads, then found her way back home to Cheyenne Wells, where she was postmaster until her retirement in February of 2009.
Actively involved with her community, Cathileen was the secretary for the 911 board. It was her honor to be a member of the VFW Auxiliary, serving as chaplain and trustee for both the Kit Carson Auxiliary and the VFW District 13.  For several years, she was the Sunday School Superintendent for the Methodist Church.
In her free time, Cathileen enjoyed reading, crocheting, taking short trips with friends, and supporting her niece and nephews as they excelled through school and sports. Many summers included a trip to North Pole, Colorado, with them. She delighted in her animals, watching professional bull riding, participating in the local Red Hat Society, attending her weekly Bible study, and joining the "Silver Highlights" every Friday for lunch at the Gap and a wild game of pitch!
Cathileen is preceded in death by her grandparents, Herman and Bessie Beek, and David and Hestor Darnall; parents, Harold and Mary Beek; sister, Carey Watt; and brother-in-law, Jim Troup. 
She is survived by her sister, Karen Troup; brother and sister-in-law, Lynn and Barb Beek; and nephews and niece: Greg and Raymond Troup; Cara Doerflinger; Travis, Kyle, Lucas, and Chase Beek; along with their spouses and children.
Funeral services were held June 6, 2023, at the Wells of Faith Church in Cheyenne Wells.  Burial followed in the Fairview Cemetery in Cheyenne Wells.  
Memorial contributions may be made to:  St. Judes; 501 St. Jude Place; Memphis, TN  38105.  
Arrangements were under the direction of Brown Funeral Home.