Image
Obituary – Rita Louise Welle
Image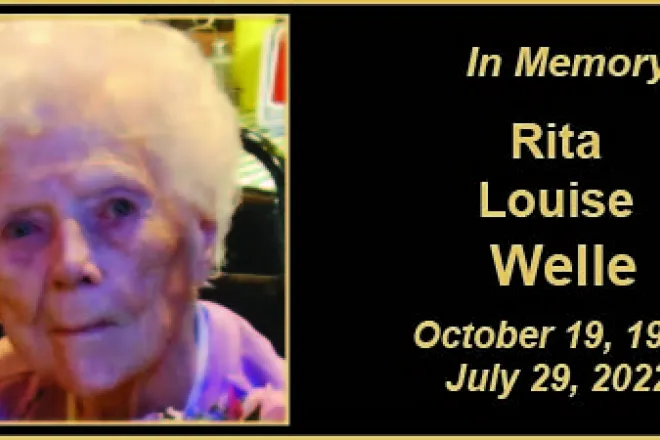 Rita Louise Welle, 100, of Goodland, Kansas, passed away July 29, 2022, at Richmond Health Care and Rehabilitation Center in Richmond, Kansas. 
Rita Welle, daughter of James and Bessie (Hess) Sponsel, was born in Sherman County, Kansas, October 19, 1921.  
When she was three months old, her parents moved to Cheyenne Wells.  They lived there for nine years.  
Her mother died when Rita was seven years old, putting a strain on the family.  It was decided that her dad should place her and two of the sisters in the Abilene Boarding School.  She was there through the eighth grade, which was as long as they kept them at that time.  
From there, she returned to Cheyenne Wells where she lived with her sister, Frances, and where she attended high school.
She was married June 25, 1939, to Harold Welle.  They lived on a farm at Arapahoe where they farmed and ranched.  They weathered many storms, drought, and hail. In 1953, they were forced to sell all of the cattle due to a severe drought.  Vowing to not have to do this again, they put in the first registered irrigation well in Cheyenne County. It showed what water could do.
In 1963, they sold the farm to retire, but soon bought The Trail Inn Motel in Cheyenne Wells. They ran it for nine years, then sold it to try to retire a little longer this time.  They purchased a motorhome and travelled through 49 states, Mexico, Canada, and five European countries.
After Harold's passing, Rita moved to Goodland, Kansas, in 1990 to be closer to some of her sisters.  She worked at Carnegie Arts and Red Cross.  Rita spent her spare time playing cards, crocheting, reading, and going around the area playing bingo.
She spent several years in the Goodland Nursing home after becoming unable to live alone in her house.  
She spent about a month in the Richmond Nursing Home in Richmond, Kansas, where she passed away.
She was preceded in death by her husband; two infant daughters; parents; brother, Bud Sponsel; and sisters; Frances Pilger, Mertle Vinduski, Blanche Beltch, Veronica Pilcher, Opal Ihrig, and Teresa Schreivogel.
She leaves to mourn her son, Linden Welle and his wife Marcene (Wolfe) of Fort Morgan; daughter, Rose Welle (Woods) of Richmond, Kansas; grandchildren, Darrin Welle and wife Ricelle of Morgan Heights, California, Janna Baker (Welle) and husband Doug of Wray, and Verle Welle and wife Rhonda of Osawatomie, Kansas; great grandchildren, Brock Welle of Osawatomie, Jordan Welle (wife Kimberly) of Wellsville, Kansas, Toya Welle of Washburn, Iowa,  Tonya (husband Donnie) Welch, and Mark Baker in the US Navy; great great grandchildren, Jaden Welch, Karson Welch, Kaysen Welch, Tristan Welch, Zachary Welle, Adalynn Welle, Ryliegh Welle, and Skylar Welle; and many more friends and relatives.
Funeral mass will be Thursday, August 4, 2022, at 10:30 a.m. MDT at Our Lady of Perpetual Help Catholic Church, 304 West 13th Street, Goodland, Kansas. 
Visitation will be one hour prior to the service, from 9:30 to 10:30 a.m. at the church.
Interment will follow the service at the Fairview Cemetery in Cheyenne Wells. 
Memorials may be designated to OLPH Catholic Church and may be left at the services or sent in care of Bateman Funeral Home, P.O. Box 278, Goodland, Kansas 68835. 
Arrangements are under the direction of Bateman Funeral Home.