Image
Obituary - Charles "Charlie" Rapp
Image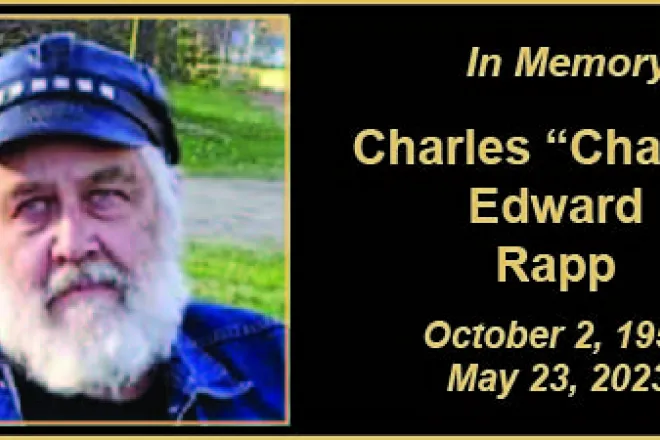 Charles "Charlie" Rapp, of Browerville, Minnesota, passed away May 23, 2023, at his home. Memorial Services were held June 7, 2023, at Verndale Family Life Church in Verndale, Minnesota.
Charles Edward Rapp was born October 2, 1957, in Greeley to Stanton and Erma (Dunning) Rapp.
As a child, he was always helping his dad with things; they ran gas stations and car washes together.
Charles attended Thermopolis High School, graduating with the class of 1975. Following High School, he was part of the rodeo circuit for a few years while living around the front range. 
Later in life, he met Pam Olson through eHarmony, and they were married September 16, 2006, in Cheyenne, Wyoming, where they resided until May 2019 when they relocated to Browerville, Minnesota. 
A devoted father, Charlie loved his kids and spending time outdoors in Minnesota. 
He applied his passion for cars to the work that he did at his body shop, Charlie's Old School Autobody.  
Some of his favorite pastimes included attending car shows, rebuilding motorcycles, crafting with metal over woodworking, and his antique motorcycle club.  
Charlie is preceded in death by his father Stanton Rapp.
Deeply loved, Charlie's passing will be mourned by his beloved wife Pam; mother, Erma; sons, Joseph (Jordan Baardsen) Ulsager, Stanton (Taylor) Rapp, and Philip Rapp; grandchildren, Brenlee and Charlie; brother, Timothy Rapp; many nieces, nephews, and a host of friends.
Arrangements were under the direction of Karvonen Funeral & Cremation.