Image
Obituary - David Hoyt Mendenhall
Image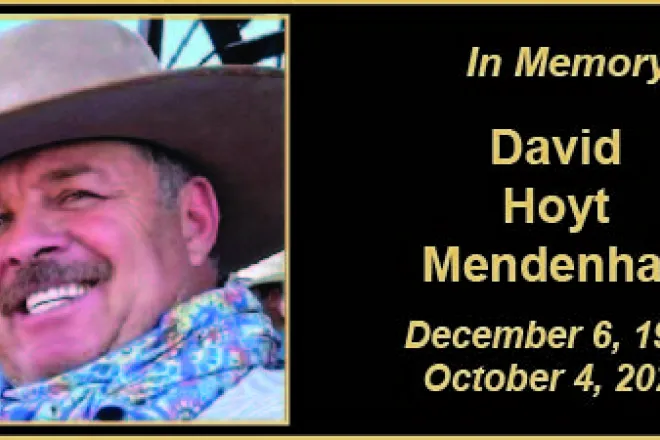 David Hoyt Mendenhall, 59, of Rocky Ford, passed away October 4, 2023, at Penrose Hospital in Colorado Springs. He was born December 6, 1963, in Rocky Ford to H. H. "Mick" & Emily (Hoyt) Mendenhall.
Dave, as he was fondly called, grew up immersed in the Rocky Ford community. After his early education, he pursued a business degree at Colorado Western State University. After college, David decided to learn the traditional trade of the "Buckaroo" and moved to one of the largest cattle ranches in northeast Nevada, later transitioning to the Jordan Valley in Oregon. Upon the passing of his father, David returned to Rocky Ford to run the family ranch. Being back in the Arkansas Valley, he met the love of his life, Laura. They married and, hand in hand, diligently managed the Mendenhall ranch. When Taylor was born, it was evident that she would also embrace this cherished way of life. As she grew, David and Laura ensured she actively participated in the daily operations of the ranch. David was a devoted husband and father, and to him, family and tradition meant everything.
His commitment to community was further underscored by his dedication to the Arkansas Valley Fair and Exposition Association, where he was a member for over 30 years. He served as their president from 2000-2001 and again from 2020-2022. He also served as the Arkansas Valley Fair Rodeo Arena Director for over 25 years.
David was on the Colorado Cattlemen's Association board from 1996 until 2014. He was CCA president from 2011-2012. As a member of CCA since 1986, David served on several committees throughout his membership. His daughter, Taylor, is following in her father's footsteps in the ranching tradition and involvement as the 2023-2024 Junior CCA President and Secretary of Bent-Prowers Junior Association. David served the association and industry in other capacities as well. As the committee chair, he provided testimony at the state legislature and represented the industry in Washington, D.C., on various occasions. He served as President of Bent-Prowers Cattle and Horse Growers in 1996. David was appointed as a Colorado Brand Board commissioner in 2015.
David was a life-long member, and Past Master, of the St. John's #75 Masonic Lodge as well as a member of Elks Lodge #1147, both in Rocky Ford. He was an avid outdoorsman who loved hunting and camping with his friends and family.
David loved and served the Lord, which was evident in his character in the way he loved and served others. With his ever-present smile, Dave was universally recognized for his profound kindness, boundless generosity, and innate ability to forge connections with all he met. There was no stranger to David, and he was loved by all. His presence and Christ-like character will be greatly missed.
Dave is survived by his beloved wife, Laura Mendenhall, and their cherished daughter, Taylor Mendenhall, both of the Rocky Ford home; sisters, Mary Mendenhall (Hal Howard) of Portland, Oregon; and Lynn Mendenhall (Olivier Katz) of Denver; nieces, Lucy Howard (Jack Hollowell) of the Czech Republic; Ellen Howard of Portland, Oregon; nephew, Henri (Sarah) Katz of Boulder; and great-nephew, David Hollowell. They will all carry Dave's memory forward. 
He is preceded in death by his parents, H.H. "Mick" & Emily Mendenhall; brothers, Ward Mendenhall and Stuart Mendenhall; and sister, Moira Cogswell.
Visitation will be Sunday, October 15, 2023, from 11:00 a.m. to 2:00 p.m. at Peacock Memorial Chapel in La Junta.
Funeral services will be held Monday, October 16, 2023, at 10:00 a.m. at the Arkansas Valley Fairgrounds in Rocky Ford with Pastor Gail Allen of The Cowboy Church and Pastor Jeb Brown of The River of Life Church officiating. 
Dave will be laid to rest at Hillcrest Cemetery in Rocky Ford following the service.
Arrangements are under the direction of Peacock-Larsen Funeral Home & Arkansas Valley Crematory.