Image
Obituary - Denis James Weber
Image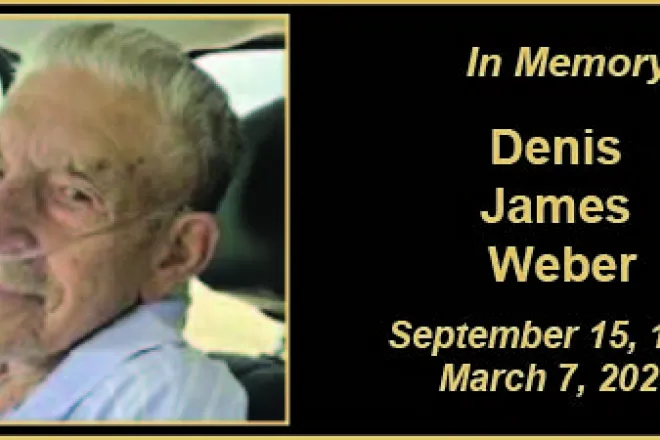 Denis James Weber was born at the family farm in Sheridan Lake September 15, 1933, to Frank and Agatha Weber. He was the eighth of eight children. After struggling with complications of COPD, he passed away at his home March 7, 2023.
Denis loved growing up in a large family, and was always busy. He helped his dad, mom, and siblings work the farm and ranch from the time he was a small boy. They raised cattle, pigs, sheep, and chickens, and farmed the land. He would tell the story of waking up in the morning and milking 50 cows before going to school, only to return home and milk them all again. 
He was a very athletic student, and especially loved basketball, but participated in all sports. His senior year, he was offered a full-ride scholarship to what is now known as Colorado State University to play football, basketball, baseball, and boxing. Dad would mention to us that he had the same arm length, as the most prominent boxer of his day.  Denis also loved dancing, especially with his sister, Mary Lou, horseshoes, bowling, shooting pool, playing cards, dominoes, and dice.
Denis met his future bride, Theresa Gorman, at a dance in Kit Carson. He loved telling the story of never dating another girl after his first date with her. She was the love of his life, and they were married August 24, 1954. Together they raised seven children, four boys and three girls. As individuals and as parents, Denis and Theresa were very devoted to their Catholic faith.  With the oldest child 17 and the youngest an infant, it was a carload when the family traveled to mass every Sunday. 
Denis was a hard worker and was willing to do most any honest job to maintain the farm and feed his family. He farmed mostly wheat, raised cattle, pigs, and goats, worked on oil rigs in the Crow's Nest as a derrick hand, hauled goods across the road in an 18-wheeler, drilled CRP grassland, and helped at Weber Water Service when and wherever he could.
Denis and Theresa celebrated 68 years together and supported each other through many sadnesses and celebrations. None were more heart breaking than the death of their two sons, Gerald and Curtis, to cystic fibrosis at the ages of 36 and 30, and their son-in-law, Corby, to cancer at the age of 62.
Denis is preceded in death by his wife, Theresa Gorman; parents, Frank and Agatha (Hoffmann) Weber; siblings, Baby Weber, Leander (Maxine) Weber, Ed (Betty) Weber, Leona (Lloyd) Blackwelder, LaVerda (Bernard) Kollath, Roslyn Weber, Mary Lou (Eddie) Pless; and Mildred (Don) Dickerson; sons, Gerald and Curtis Weber; son-in-law, Lance "Corby" Knutson; and great granddaughter, Zoe Thomas.
Denis is survived by his daughters, Connie Weber, Kathy Knutson, and Linda (Roger) Cochran; sons, Jerry and Ronnie (Gloria) Weber; granddaughters, Tara (Wayne) Watley, Alexandria Knutson, Nicole and Courtney Cochran, Jessica (Dalton) Mercure, Laura (Sean) Thomas, and Emma Weber; grandsons, Quinton Weber, Casey and Jordan Knutson, Ryan Cochran, Bryan Kunz, and Zachariah Weber; great granddaughters, Aryanna Watley, Adley, Teagan Mercure, and Arabella Thomas; and great grandsons, Josiah Watley, and Leland and Jairemiah Thomas.
Rosary will be March 17, 2023, at St. Francis de Sales Our Lady of Guadalupe Church, 600 E. Parmenter in Lamar from 4:00 to 5:00 p.m.
Funeral Mass of Resurrection will be held March 18, 2023, at 11:00 a.m. at St. Francis de Sales Our Lady of Guadalupe Church. Burial will follow at 1:30 p.m. at the Sheridan Lake Cemetery at Sheridan Lake.
Arrangements are under the direction of Brown Funeral Home.