Image
Obituary - John Lewis Branom Jr.
Image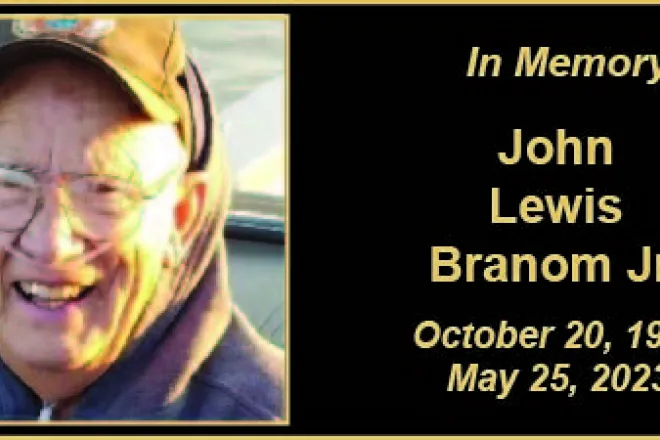 John Lewis Branom Jr. passed away May 25, 2023, at the age of 89. John was born October 20, 1933, to Dalphine and John Branom in Wiley. John married Judy Delwolf October 22, 1956, in Raton, New Mexico. 
John enjoyed hunting, fishing, socializing. In his younger years, he worked with his father at Standard Alfalfa Milling Co. until he joined the Army, serving from 1954 to 1956. He became a barber and barbered for 60 years. He was a meter inspector for Colorado Interstate Gas in Vernal and Riverton, Wyoming, until he retired.
After retirement he and Judy enjoyed the good life in Apache Junction, Arizona. His family was a member of the Methodist Church and "shootin the bull." 
He is survived by his wife, Judy; daughter, Kim (Hal) Jackson; son, Kirk (Shelly) Branom; granddaughter, Kortni Huber; grandsons Blake Gross and Keyan Branom; granddaughters, Kylie and Shara Ivie; great grandchildren KC, Riggs, Brodi, Malorie, Jara, Tyson and Serenity; many nieces and nephews; and his brother-in-law, Harold Reed. 
He is preceded in death by his mother, Dalphin; father, John Sr.; second mother, Loma; sisters, Dorothy Lance and Nikki Reed; and nephew, Kerry Lamle.
A graveside service will take place in the Creede County Cemetery in Colorado at a later date. 
Arrangements under the direction of the Phillips Ashley Valley Funeral Home.