Image
Obituary - Kenneth A. Burns
Image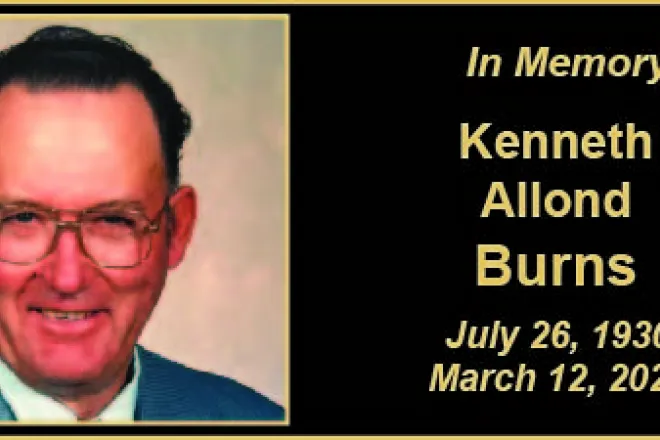 Kenneth Allond Burns was born July 26, 1930, at his grandmother's home (as was the custom) in Leoti, Kansas, to Jesse Allond and Roberta May (Hollister) Burns. 
Kenneth returned, with his parents, to his home in Colorado when he was three weeks old. He grew up near Eads and Westcliffe. 
It was 20 miles to the nearest town. Homeschooled, his father taught him mechanics and welding, and his mom helped him read, while she did her housework. He even won a 4-H award for sewing his sister a dress. Kenneth graduated from high school by correspondence courses. 
As a teen, he herded cattle from out east to the Myron Stratton Home for Orphans. He also custom-cut wheat in Colorado and Kansas with his family. On their own ranch, he worked to tame horses that his dad bought and sold.
In 1949, his family moved to Colorado Springs. When his family moved, he worked at the Marksheffel Garage at night. 
In Colorado Springs he met Dorothy Lorene Sleichter, a neighbor. Both of the families decided to move to Missouri for work. 
October 19. 1950, in Springfield, Missouri, Kenneth and Dorothy were married. Three daughters were born, Cathy (Warren) Miller, Melody Roseann (died at 13 days old), and Candy (Steve) Furnish.
In Missouri the jobs did not work out, so both families moved back to Colorado. Kenneth and Dorothy moved to Eads to ranch with his folks. They had two girls, but after the second child died, they moved back to Colorado Springs, where Kenneth worked on water pumps for his father-in-law at the General Pump Company. Their third daughter was born in Colorado Springs.
Going into business, he started small, opening Water Well Pump Company in 1967, and expanded to Water Well Pump and Supply Company in 1970, constructing his own new building. To keep his excellent employees through the lean winter months, he and his crew would build a new house to sell in the spring. They built three houses in Colorado Springs, and his crew were lifelong friends.
November 4, 1977, Kenneth married Joan Peterson. Kenneth enjoyed his children, grandchildren, and many great grandchildren. When he sold his business, he worked at cabinet making, maintaining equipment for Monk Construction, and again worked on water pumps. 
When he retired, he shared caregiving for his parents with his younger sister for over seven years. Into his nineties, he did handyman work for $10 per hour, no matter the job, so widows and single parents could afford to keep up their homes.
Kenneth belonged to the local Cattlemen's Association. He volunteered at the Catholic Church food bank in Security, and donated the afghans he learned to crochet from his mother to the Crossfire Ministries Store. 
Russ Wolfe hired him to install the water system for the Flying W Ranch years ago, and after the Waldo Canyon fire, he planted new trees with Russ's daughter, so the ranch could recover. 
He loved to travel the U.S., seeing the sights, and spending time working on projects with his extended family and friends. He attended the Church of the Brethren as a young man, but now he loved going to The Church on the Ranch with his daughter's family and his old friends
Kenneth passed away March 12, 2023. He is survived by his children, grandchildren, great grandchildren, as well as nieces and nephews and a host of friends.
Services were held March 21, 2023 at the Memorial Gardens Funeral Home Chapel.
Memorial contributions may be made to
St. Jude Children's Hospital - 501 St. Jude Place – Memphis, TN 38105
Cat Farley's Boys Ranch – PO Box 1890 – Amarillo , TX 79105
Crossfire Ministries – 3975 N. Academy Blvd. – Colorado Springs, CO 80917