Image
Obituary - Mildred Marie Travis
Image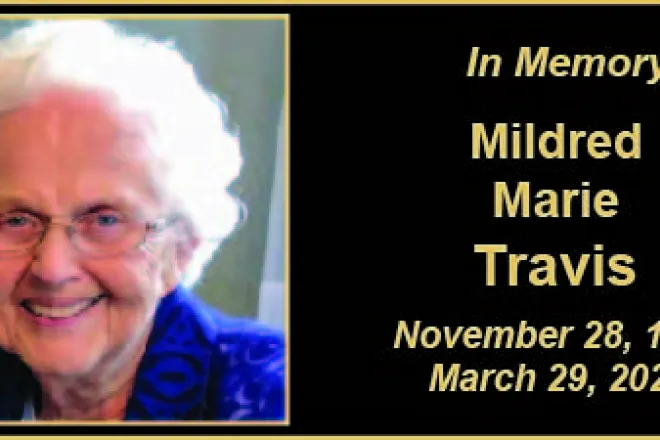 Mildred Marie (Neary) was born November 28, 1923, at Lamar to William John and Effie Ann (Kennon) Neary and died peacefully surrounded by her family in her home March 29, 2023.
Mildred was married February 18, 1944, to her high school sweetheart, Morris, in Syracuse, Kansas. He was a pilot in World War II, and was home on leave at the time of their marriage. 
They built a home in McClave where Mildred and Morris lived and raised their family.
Mildred and Morris had four children, Joyce Marie, William "Bill" Eugene, Christine Ann, and Mitchell Glen.
Mildred went to college at Colorado Teachers College (now UNC) and briefly taught third grade in Eads. She worked at the La Junta Air Base during the time Morris served in the South Pacific. Later in her life, Mildred worked at the McClave State Bank for 18 years.
She was an exceptional cook and created beautiful needle art.
 Mildred is preceded in death by her beloved husband of 50 years, Morris Eugene Travis June 29, 1994;  daughter, Christine Ann Travis Hemphill; parents; and siblings, James, Velma and Ruth.
She is survived by her children, Joyce, Bill and his wife Suzanne, and Mitchell and his wife Marilyn. She is also survived by her grandchildren, Sarah and Andrew Huffman, Brenna Travis, Jeff Travis (and Monica Sutphin), Brett and Nichole Travis, Brooke Travis, Nathan Travis, Laurel Travis and Tammi Travis; great grandchildren, Bailey Huffman (and Kevin Haugen), Makayla Huffman (and Jacob Chambers), Andrew "Drew" Huffman II, Madison Huffman, Tristen Travis (and Maddie Silvey), Trey Travis, Alex Travis, Logan Travis, Ashlyn Travis, Ashly Melgosa (and Matthew), Kelsey Ybarra, and Christian Ybarra; six great great grandchildren; numerous nieces and nephews, many who called her grandma; and her sister-in-law, Annie Travis McMillian.
Mildred devoted her life to others and was the center of her family. She taught us the following lessons:
Cooking for others is a labor of love.
Good food is a gift.
Meals together are the center of the family.
A meal around a table brings understanding and connection
Unconditional love does not mean justifying bad behavior.
Acknowledge and/or celebrate the important occasions of others.
Mind your manners. They make you a nicer person.
Say thank you. Be thankful.
Be grateful for all you have. Don't dwell on what you don't have.
You must work for what you want.
Save before you buy.
Don't take more than your share.
Don't take the last piece.
Don't be wasteful.
Giving your time is the greatest of all gifts.
Remembering where you came from teaches you who you are.
Honor those you've loved and lost. Accept grief as part of life.
Do your best--always.
Do as much as you can.
If you fall, get up.
If you don't do something because you don't feel up to it, you will never get it done.
Hurting is not an excuse for not doing. Do and you'll feel better. Don't and you'll hurt more.
Hurting and being unable are not the same thing.
Read.
Walk.
Moderation.
Make pretty things.
Busy is the cure for worry.
Don't just sit.
Keep house as if you are expecting company in an hour.
By taking care of others, you take care of yourself.
Actions say more about love than words.
Actions show priorities.
The only way to get through darkness or sadness or pain is to keep going.
Go on.
Take pride in your appearance and you will feel better about yourself.
Live true to your beliefs.
Make your surroundings beautiful and you will be at peace with where you are.
A Celebration of Life for Mildred M. Travis will be held at 11:00 a.m., Thursday, April 6, 2023, at the Peacock Family Chapel with Pastor Paul Floyd of the High Plains Fellowship church officiating. Interment will follow at McClave Cemetery.
Visitation for Mrs. Travis will be held from 9:00 a.m. until service time at the funeral home Thursday.
Memorial contributions may be made to the Lamar Area Hospice or to a charity of your choice either direct or in care of the funeral home office.
Arrangements are under the direction of Peacock Funeral Home.