Image
Obituary - Richard 'Pete' Alvin West
Image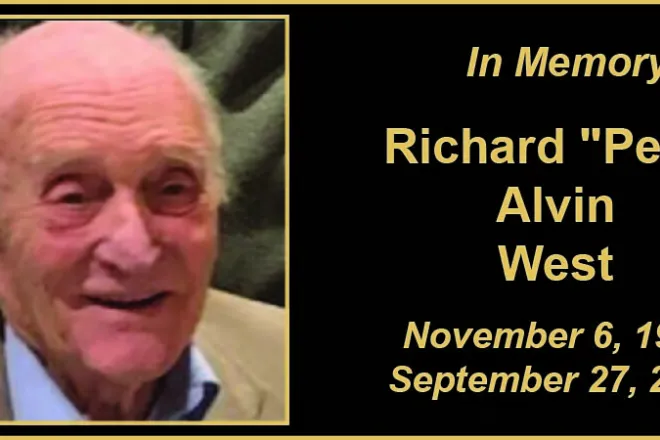 Richard 'Pete' Alvin West
November 6, 1930 - September 27, 2023
After nearly 93 years, Richard A. (Dick) West left this life to find those who had a gone before him. He was born November 6, 1930, in Marshall, Missouri, to Raymond and Lucille (Clopton) West. 
He was preceded in death by his parents, and his wife, Melva June West.
He is survived by their children, Vickie (Danny) Shine, David (Berta) West, Dana Carr, and Jamie (Rudy) Krause; 10 grandchildren; and three great grandchildren.  
Richard was a boxer in college and was honored to win the "Golden Gloves."
He worked for Jack Construction building grain elevators, which brought him to Eads where he met Melva June Lahr. They were married in 1951.  Soon after, the draft called him to the US Army, and they relocated to Fort Riley, Kansas, where he served as a drill sergeant during the Korean Conflict. After his military service, they returned to Eads and raised their family. In 1969 they moved to Colorado Springs, where he was a building contractor.   
When not working, he hunted whenever there was a chance.  He was an avid outdoorsman and shooter, and was a longtime member of the Issac Walton League in Colorado Springs, where he was competitive at trap and skeet shooting, scoring well in competitions. 
Fortunately, he was able to travel to Africa with his son in 2000 at the age of 70 for the hunt of his life. It was the love of Richard and June to take their children and grandchildren on camping and fishing trips throughout Colorado.
He was blessed with good health, which enabled him to live in his own home until his peaceful passing September 27.
Graveside funeral services with full military honors will be held October 21, 2023, at 11:00 a.m. at the Eads Cemetery with a reception to follow at the Eads Senior Citizens Center.
Arrangements are under the direction of Brown Funeral Home.