Image
Obituary - Ryan Scott Davis
Image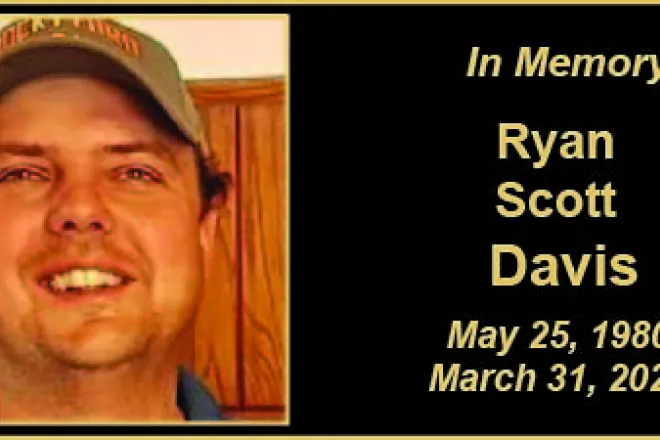 Ryan Scott Davis was born in Las Animas May 25, 1980, to Arthur and Jacque (Shinn) Davis. He attended school in Las Animas, graduating in 1998. Ryan attended Northeastern Junior College and Oklahoma Panhandle State University, majoring in Animal Science and Agri Business. 
He passed suddenly March 31, 2023, in Las Animas at the age of 42.
He held various positions in the agriculture industry until purchasing WW Feed & Supply, Inc. in 2019. Ryan was an active supporter of the area 4-H programs.
Ryan is survived by his son, Frank Lee Davis; parents, Arthur and Jacque Davis; brothers, Kyle (Ammie) Davis, Ross (Alyssa) Davis; nephews, Ty Arnold, Wyatt Davis, and Jasper Davis; aunt, Connie Ede; and uncle, Roy (Amy) Davis. He also leaves behind many cousins and a host of friends.
Ryan was preceded in death by his grandparents, Frank and Reta Davis and Lee and Mary Shinn.
Funeral Services for Ryan Davis will be held Friday, April 7, 2023, at 10:30 a.m. at the Bent County Community Center, 1724 W. Ambassador Thompson Blvd. in Las Animas with Pastor Rod Coulter officiating. Interment will follow at the Bent/Las Animas Cemetery. 
In lieu of flowers, memorial contributions may be made to your local 4-H program.  
Funeral arrangements are under the direction of Horber Funeral Chapel.