Image
Obituary - Wilma L. Criswell
Image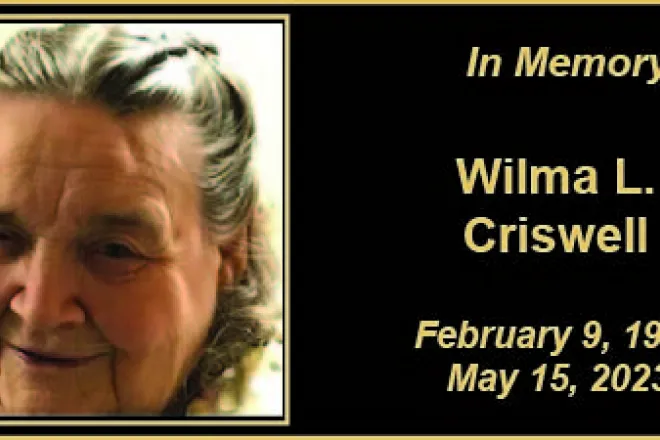 Wilma L. Criswell passed away May 15, 2023, at Wallace County Community Care Center at the age of 91 years with her loving caregiver Mely Chavez by her side.
She was born to Kathryn (Oswald) and Walter Thomas February 9, 1932, at their home in Kiowa County near Chivington. She was the fifth of eleven children.
She attended Chivington School. At the age of eleven, her sister, Mary, was killed in an accident near Chivington. Following that, at the age of thirteen, she lost her mother and became mother to her six younger siblings. Eventually the younger children were sent to other homes, but she always kept in touch with them and made sure that they knew their roots.
She married Stanley E. Criswell February 9, 1948, at his parent's home in Kiowa County. Five children would eventually join them; Douglas Eugene, Steven Ernest, Eileen Louise, Anthony Roger, and Darla Jean to complete their family.
Her early married years were spent raising her children, delivering mail, helping Stanley with his business, running parts, doing books, and filling in when he had to be away from the gas station to repair radios and TV's.
The family finally made a huge decision to move from Eads and move to Goodland, Kansas, for a new adventure in 1966. She continued to take care of her family and, in 1968, began the family project of building a new home in the Armstrong Addition.
In the early 1970s she began cooking at the school. She eventually went to work in the kitchen at the Northwest Kansas Regional Medical Center in Goodland, where she remained until she retired.
In retirement, she enjoyed many camping trips with Stanley and his brothers and sister. She loved to take any and all of her children, and grandchildren when she could.
Many hours were spent in the basement of her home watching movies, playing games, and just enjoying her nine grandchildren on a daily basis. They all have found memories of their grandmother. She was also blessed with 12 great-grandchildren, that she loved getting to spend time with when she could. She was also lucky enough to meet her first great-great-grandson.
Preceding her in death were her husband, Stanley E. Criswell; brothers, Walter Thomas, Donald Aiello, and Larry Schindler; sisters, Mabel Lucille Lee, Baby Sister Thomas, and Mary Irene Thomas; infant son, Douglas Eugene Criswell; parents, Walter and Kathryn Thomas; and great-grandson, Brayden Sahli.
Surviving to mourn Wilma are her sons, Steven Ernest and Anthony Roger; daughters, Eileen Louise (Ron) Dautel and Darla Jean (Tim) Lee; grandchildren, Steven Sean, Heather, Justin, Jackie, Jenny , Marshal, Kara, Kaitlin, and Sheldon; eleven great-grandchildren; two great-great-grandchildren; brothers, Gary Schindler (Kathy) and Milard Charles; sisters, Mildred Hicks and Dorothy Cline; sister-in-law, Viola Carlock; brother-in-law, Lotus Jr. (Francis) Criswell; and many nieces, nephews, and friends.
Memorial services will be held Thursday, May 25, 2023, at 11:00 a.m. (MDT) at the Bateman Funeral Chapel in Goodland.
Arrangements are under the direction of Brown Funeral Home.