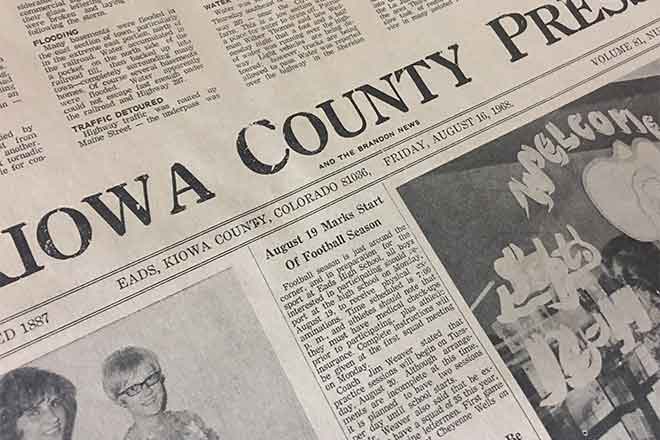 Published
Sunday, May 20, 2018
15 Years Ago
May 16, 2003
* Plainview High School won top honors at the 2ndannual statewide Home Energy Investigation Contest sponsored by the Colorado Energy Science Center
* Riki Berry, Eads senior, and Megan Fickenscher, Plainview senior, were selected to be honored as "Zonta Girl of the Year" by the Lamar Zonta Club.
* LaVerle Kelley and Loretta Seibel have returned from working in a Casino in Nevada. They had a great time.
25 Years Ago
May 19, 1993
* The Weisbrod Nursing Home Patio was the site of a lovely outdoor Fashion Show
* The Kiowa County Commissioners voted to purchase the Bookmobile along with Cheyenne and Bent Counties as long as the initial cost is $5,000 above the operating cost.
40 Years Ago
May 19, 1978
* Connie S. McPherson and Paul L. Daniels took over the operation of the Kiowa County Press. They purchase the newspaper from former owner Nick Johnson.
* At the annual meeting of County Sheriffs of Colorado, Larry Watts, Sheriff of Kiowa County, was elected to Board of Directors.
* The Weisbrod Memorial County Hospital carnival will start promptly at 11am with the white elephant auction.
50 Years Ago
May 17, 1968
* A call for volunteers, material & supplies for the repair and painting of the bleachers at the Eads Athletic Field brought more than expected results.
* Plateau Natural Gas Co. moved its business office in Eads to a new location, 1301 Maine Street. Remodeling of the building was started several weeks ago.
* Wayne G. Langenderfer, Doctor of Optometry, has opened an office 1213 Maine Street. Both Dr. John F. Hines, Dentist, will share the same reception room.
Brandon News: Our Recent rains brought us 1.33 inches of rain.