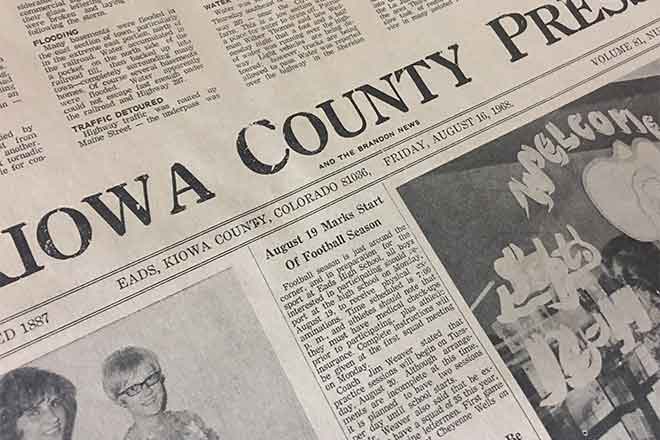 Published
Monday, September 3, 2018
15 Years Ago
August 29, 2003
Kiowa County received $1,000 for West Nile Protection.
The Kiowa County Economic Development Foundation purchased nearly 800 acres of land south of Eads.
Wild Horse Roundup-Curtis Schrimp: I'm not having much luck yelling at the Rockies lately as they don't seem to pay attention.
25 Years Ago
September 1, 1993
A comprehensive management plan details the response action that the RE-1 school district will be taking regarding asbestos containing materials found in its buildings.
Accounting and Personal Application of computer programs for adults will be offered at Lamar Community College.
40 Years Ago
September 1, 1978
There will be a get together for all the Eads High graduates who were in the classes of 1920 to 1930 after the rodeo on Friday.
Eads Bankcorporation, is a newly formed corporation organized for the purpose of becoming a bank hold company through acquisition of the bank. This proposal represents a transfer of ownership of First National to local residents.
Extension Agent-George Ellicott: Some adjustments have been made in the premium list to increase some of the open class premiums and make them equitable.
50 Years Ago
August 30, 1968
Only two witnesses on behalf of the Town of Eads' protest of Missouri Pacific Railroad closing the depot and agency in Eads appeared at the hearing before the Public Utilities Commission.
The Eads Chamber of Commerce presents The Rocky Starr Show - National Top Country and Western Entertainers - Rocky Starr, Stan Rutka, Rock Gunter, Rick Digialonardo, Pam Martin plus others
75 Years Ago
August 27, 1943
Chester Ward, Superintendent of the Highland Utilities light & power plant in Eads, announced the property here has been sold to R.E.A.
Supt. C.T. Gilley announced the Eads Public School coming term will be delayed 1 week and a day because of vacancies on the teaching staff.
100 Years Ago
August 30, 1918
Contractor J.H. Peck is pushing the construction of the new Chivington school building. The old building will be used for school purposes until the new is completed, which it is expected will be in use by the holidays.