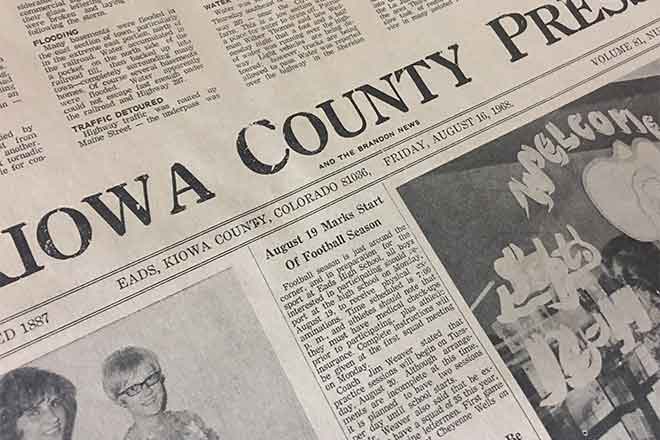 Published
Friday, February 16, 2018
Pages from the Past
15 Years Ago
February 14, 2003
Connie Richardson, RN, a registered nurse at Weisbrod Memorial Hospital & Nursing Home has been nominated for a 2003 Nightingale Award.
Plainview Elementary received the John Irwin School of Excellence Award for 2001-2002 school year.
East End Events-Kami Stum: The Senior Citizens are selling raffle tickets for their annual ceramics collections.
25 Years Ago
February 18, 1993
What began as a routine shoplifting call in Lamar ended with recovery of merchandise taken from three Eads businesses.
Blizzard conditions across southeast Colorado forced schools and many businesses to close. Accumulations of more than 12 inches reported.
40 Years Ago
February 17, 1978
A lingering ice storm compounded by a five-inch snow dragged down more than 1,000 utility poles of Southeast Colorado Power Assn. plunging just about all of Kiowa County & other eastern Colorado areas into prolonged darkness & near helplessness.
50 Years Ago
February 16, 1968
Much of eastern Colorado was blanketed with light cover of wet snow. About 2 inches in Eads .10 moisture content.