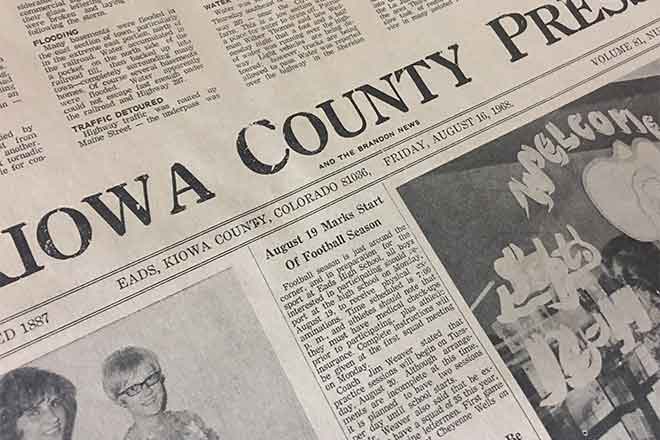 Published
Wednesday, March 21, 2018
15 Years Ago
March 21, 2003
The Plainview Junior Class along with Thomas Pape, headed to Denver to participate in the annual Colorado Close-Up Program. This is a three-day program about the state's government.
USDA Update-Rod Johnson: Multi-Million Dollar Storm! The rain and snow that reach Colorado this week was one of the largest in recorded history.
Both the Eads Eagles boys and girls basketball teams won state title. The Lady Eagles brought home the gold ball for the 7th time in school history & set a Colorado prep record for the most state championships by any school in any division.
Eads Coach Shawn Randel became the first coach in Colorado prep history to win 2 state basketball championships in the same year, when both his girl's and boy's teams won the 1A state championship.
25 Years Ago
March 24, 1993
Neighbors in the Rush Creek area northeast of Eads met to discuss a legal notice in the Kiowa County Press from Newsham Hybrids, Inc. The notice concerned water rights directly affecting a 4-mile radius of Newsham.
40 Years Ago
March 24, 1978
Eight candidates have been certified as candidates for the Sheridan Lake board of trustees, and a head to head race for mayor between an incumbent trustee and the current mayor.
Water subject to a trade to establish a permanent pool behind the John Martin Dam will come from what otherwise would go into the Great Plains Reservoirs. Bill Howland, general manager of Amity Mutual Irrigation Co, put to rest persistent rumors circulating in Kiowa County, Amity plans to put water in Nee Noshe Reservoir any time soon.
50 Years Ago
March 22, 1968
Kiowa County Sheriff Eugene Kelley told the Press that since December 1 of last year, more than $3600 in property losses resulted in break-ins on farm and ranches in Kiowa County.
Sometime between closing time Sat. night and Sunday evening Haswell Cafe had a fire of unknown origin. No one knows when or what saved them from a disastrous fire.
75 Years Ago
March 12, 1943
At the present time plans are being made for the upcoming opening of the Weisbrod Memorial Hospital in Eads.
George Crow moved the old Conoco Oil Company bulk station house for his brother & placed it back of his store. It's a metal structure Clyde will find handy in his business.
100 Years Ago
March 22, 1918
The interior of the Commercial Hotel has recently been repainted and cleaned up generally.
Leonard Garrison has purchased the Roy Seaver's restaurant in Eads and will continue to run it in the usual first-class manner.