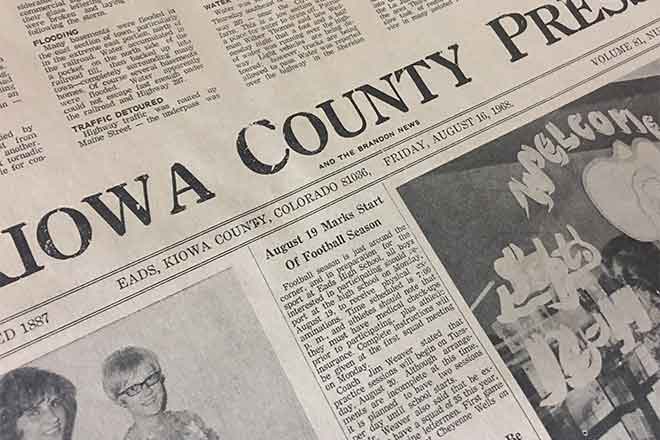 Published
Thursday, October 10, 2019
15 Years Ago
October 8, 2004
Forty-nine people boarded a big beautiful bus in Haswell and Eads for the Diamond Tours to the Smoky Mountains. The tour was arranged by Wanda and Virgil Lessenden and the West Golden Age Seniors.
The enrollment at Kiowa County RE-1 is 185, down from 210 in 2003-2004 school year.
Wild Horse Roundup-Curtis Schrimp: A fellow camped couple nights ago by our schoolhouse and is riding a bicycle pulling a trailer with solar panel that powers a motor, when the sun is shining, that powers his bicycle and and makes it easier to pedal.
25 Years Ago
October 14, 1994
Headlines: Eads Town Council Opposes Amendment 12. While the resolution encourages Eads citizens to vote against the amendment, it also encourages people to become fully informed about the amendment and potential effects upon themselves and the community. The Council voted to support the hospital ballot issue
Kiowa County Commissioners Support Weisbrod Hospital Ballot Issue to increase revenue limits.
Towner Tales Ann Harkness: If you have a concern about your child, may call any teacher at Plainview School from 8:00 a.m. until 4:00 p.m. or at home most evenings from 7:00 p.m.-9:00 p.m.
Nursing Home News: We took a ride out in the country with a stop at Jack and Honeybell Dixon's house to pick up several pumpkins. They had so graciously donated them to us for decorating our patio.
40 Years Ago
October 12, 1979
The new 69KV H-Structure power lines which Southeast Colorado Power Company had authorized for Eads last April are finally going up.
Towner Tales- Marjorie Osborn: The Towner Lions Club sponsored a wiener roast for the Cub Scout and Boy Scout's and their families.
50 Years Ago
October 10, 1969
A survey is currently underway in Eads to determine interest in cable television for the community.
Frost covered much of the area during the period following the rain.
A gala crowd of more than 60 persons attended the Arlington School Reunion at the Arlington School House.
A contract was let by Kiowa County Commissioners for 10-bed addition to Weisbrod Hospital Nursing Home in Eads.