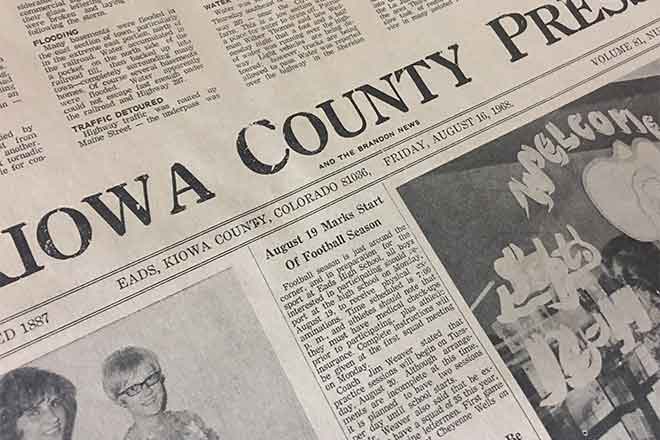 Published
Saturday, November 9, 2019
15 Years Ago
November 5, 2004
The Sixth Annual Sand Creek Spiritual Healing Run scheduled November 25-27.
A big thanks goes to Sheriff Forrest Frazee and Captain Chad Ray, who were on Maine Street giving out treats and a neat green glow light to carry.
About Town-Ida & Doris Lessenden: One of our new residents was amazed at the amount of "cactuses" that were surrounding her home and top of the neighbor's house. After confusion on my part, I asked, "are they round?" "Yes" "Oh those are tumbleweeds."
25 Years Ago
November 11, 1994
Kiowa County Sheriff Gary Rehm and District 2 Commissioner Cardon Berry narrowly defeated their opponents by margins of less than 100 votes.
Wild Horse Roundup-Curtis Schrimp: Between the amendments and the Broncos, I'm having troubles keeping my brain in gear at all.
40 Years Ago
November 9, 1979
Halloween Day, October 31, 1979, marked the retirement date of Evelyn Durrett after 37 years employment with Missouri Pacific Company.
From the Sheriff's Desk-Floyd Griswould: The budget to operate a Kiowa County jail is very limited. I'm glad we don't have to lock up drunks every Saturday night or I'm sure the budget would be overspent most of the time.
50 Years Ago
November 7, 1969
A car club to be sanctioned by National Hot Rod Association has been formed in this area of the state.
Fran Weber and Jeff Brooks were presented plaques as the Outstanding Girl and Boy at the 4-H Achievement Banquet.
75 Years Ago
November 3, 1944
A group of former Eads football players have organized a town team. According to Karl Koch, this is a group of Eads Eagles, who have grown into Buzzards, and they hope to pick a few carcasses at Wiley for first game scheduled.
100 Years Ago
November 7, 1919
C.V. Lindholm had the misfortune of running a pitchfork into his leg and has been laid up for a few days.
Lumber and material are now en route to build a standard drilling rig and derrick about three miles northeast of Chivington.