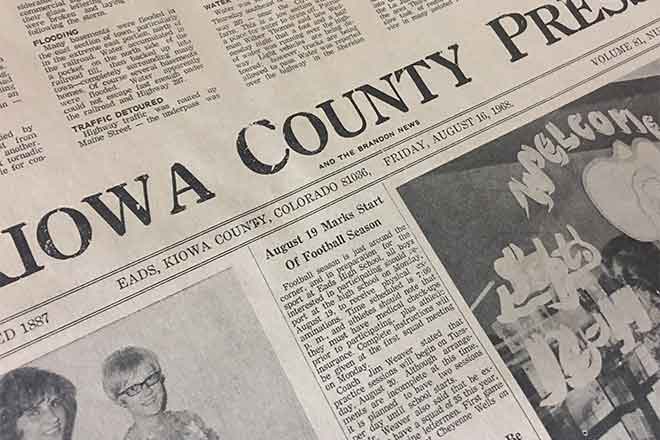 Published
Wednesday, November 20, 2019
15 Years Ago
November 19, 2004
The Eads Chamber of Commerce has decided to once again conduct the Christmas lightning contest for homes and residents this holiday season.
Virgil & Wanda Lessenden are recipients of the "Friends of 4-H" Award.
The Sixth Annual Spiritual Healing Run will start at the Sand Creek Massacre Site
25 Years Ago
November 25, 1994
A grant up to $108,000 was awarded to the Great Plains Park Project. The grant will be used to continue development of facilities at the Great Plains Reservoirs southeast of Eads.
Wild Horse Roundup-Curtis Schrimp: The Kit Carson Museum held their annual dinner for those that help keep the museum open in the summer and whatever else it takes to keep it going.
Wissel's Dry Goods announces a Quitting Business Sale. Keith Wissel state, "After 28 years in Eads, I have decided to retire and close my store."
40 Years Ago
November 23, 1979
The Kiowa County School District RE-2 Plainview has scheduled a special election to determine if an authorization to increase the revenue base per pupil of attendance entitlement should be granted.
There will be a public hearing held by the Kiowa County Commissioners to discuss the formation of a Recreation District.
50 Years Ago
November 21, 1969
Army Specialist Four Larry G. Forrest, 19, son of Mr. & Mrs. Charles C. Mills, received the Silver Star Award in Vietnam action.
The junior class of Eads High school will present "Her Emergency Husband."
75 Years Ago
November 17, 1944
John Weaver, presently from Fruita, Colorado, is expected to arrive in Eads to take up his duties as County Agent.
100 Years Ago
November 14, 1919
It is reported that about fifty head of cattle drifted into the lakes during recent snowstorm and drowned.
A meeting of Eads citizens at the courthouse for consideration of a light and waterworks system for Eads, a hearty interest by some of the largest taxpayers of the town was demonstrated in favor of such a system.