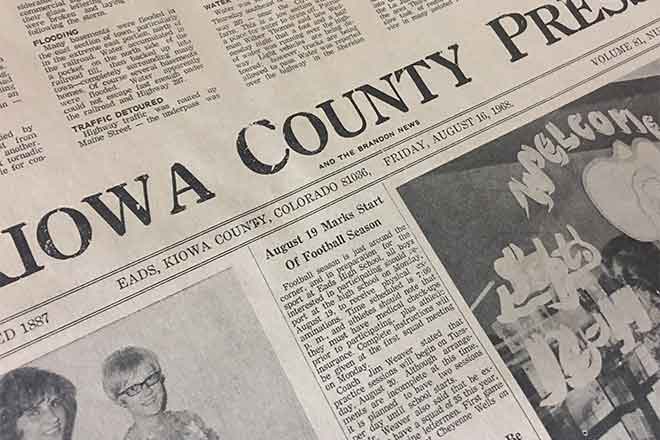 Published
Saturday, July 25, 2020
15 Year Ago
July 29, 2005
West End Wavelength - Michelle Wyckoff: James Engelhardt reports over 600,000 bushels of wheat hauled to the Haswell elevator. This is more than the last six years combined.
The Plainview Junior High and High School cheerleaders received a spirit stick two of the three days at the National Cheerleading Association, and were able to take home the stick on the last day.
25 Years Ago
July 28, 1995
Wild Horse Roundup -Curtis Schrimp: The Tumbleweed Festival at Cheyenne Wells was well attended and very enjoyable. It' always nice to visit people you don't see that often.
A sudden afternoon shower dumped nearly an inch of rain in about 15 minutes. Water from the storm collected at the south end of Maine Street, and was deep enough to reach the front door of Eagle Vision Building.
40 Years Ago
July 25, 1980
Young cowboys and cowgirls are in Eads to compete in the franchised Little Britches Rodeo. Four top national contestants had to cancel their entries because of conflict with the National High School Rodeo finals
50 Years Ago
July 24, 1970
Slow, soaking rain fell in this part of Colorado, making farmers, ranchers and townspeople happy. Eads reported 1.44", Haswell 1.15", Brandon 1.35" and Sheridan Lake two inches.
Sheridan Lake: Something unusual happened in this country during harvest. A wheat harvester ran over a porcupine while hauling wheat for Mr. & Mrs. Robert Swisher scattering quills everywhere
100 Years Ago
July 23, 1920
A.A. Neiman has purchased the old church building and will move it to his lots in the west part of town. It will be remodeled and used for rooming house
One sees many strange tourist cars, but a jitney passed through with a real house on it. At first glance it appeared as if Stanley Roberts were moving his lumber yard.