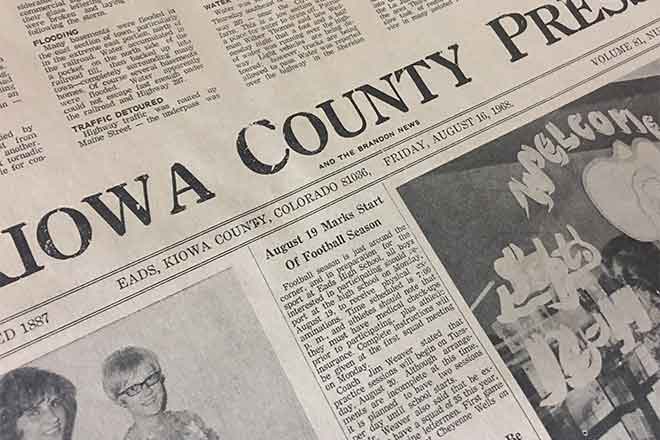 Published
Sunday, January 10, 2021
15 Year Ago
January 13, 2006
As the West End Turns- Michele Wyckoff: There were 18 card players at the Haswell New Year's Eve party. They rang in the new year by toasting with sparkling cider.
East End Events- Lana Weber: Wow ... it feels weird to be back into the "New Year" flow of everything. School is especially tough to get through, but it's all coming together.
25 Years Ago
January 12, 1996
At its regular meeting, the Eads Board of Trustees voted against proposal to turn one block of 13th St. between Maine & Slater into a one-way street exiting on Maine.
Wild Horse Roundup-Curtis Schrimp: New Year's Eve, the ladies Club held a card party at the schoolhouse. There was a small crowd and maybe that's why I won first, a big cherry pie.
40 Years Ago
January 9, 1981
Mid-December, Western Geophysical' s Party V-2 moved into Eads to begin extensive seismic exploration program. They use a patented method called Vibroseis in search for oil and gas
50 Years Ago
January 8, 1971
A new 14" plastic pipeline is being installed on the D.P. Young farm, southeast of Plainview. The line will deliver 2,000 gallons per minute to a central location in the field then gated pipe will be used to distribute water for irrigation.
75 Years Ago
January 4, 1946
J. Bassett of Sheridan Lake sold the store there to L.E. & C.D. Woelk of Genesco, Kansas. The Bassett brothers established the store in 1918.
100 Years Ago
January 7, 1921
Bob Neiman has been placing the big light on top of the water tower this week and soon will have it ready to turn on. When that oil well comes in, the tower won't look quite so big alongside of our ten-story office buildings.
Word was received by Sheriff McCracken that Carl Johnson's harness shop at Haswell was broken into and a number of valuable articles taken. The pool hall was also recently robbed. Sheriff McCracken went to Haswell to investigate and arrest the guilty party.