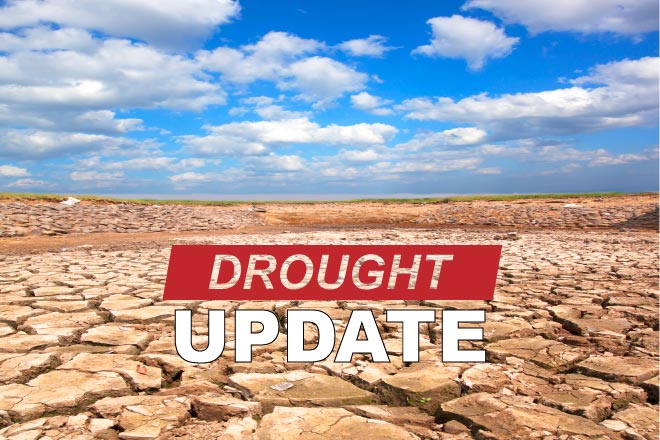 Published
Saturday, September 19, 2020
After weeks of increasingly intense drought, a few areas of improvement appeared in the latest conditions reported for Colorado by the National Drought Mitigation Center.
In north central Colorado, recently expanded extreme drought receded from Larimer and Gilpin counties, along with the eastern portion of Jackson County and parts of Clear Creek, Park, Chaffee and Jefferson counties, to be replaced with severe conditions. A pocket of extreme drought in Washington and Yuma counties was similarly replaced.
Severe drought in eastern Larimer and northwest Weld counties gave way to moderate conditions, as it did in Bent and Otero counties.
Drought remained stable elsewhere in the state, leaving most of western Colorado in extreme conditions.
Despite a mix of rain and snow last week for much of the state, topsoil moisture was rated 72 percent short or very short.
Just under five million people live in drought-impacted areas of Colorado.
Overall, one percent of the state is abnormally dry, unchanged from the prior week. Moderate conditions increased from seven to 10 percent, while severe drought increased from 37 to 39 percent. Extreme drought dropped from 54 to 40 percent of the state.
A small area of exceptional drought - the worst category - that developed three weeks ago remains in central Kiowa County, representing less than one percent of the state's area.
One year ago, 50 percent of the state was drought-free, while an additional 43 percent was abnormally dry. Seven percent of Colorado was in moderate drought conditions.
Early in the summer of 2019, the state was in an eight-week span of drought-free conditions - the first time Colorado had been clear from all levels of drought and abnormally dry conditions since records became available starting in 2000.
Drought classes include (ranked from least to most severe) D0 - abnormally dry, D1 - moderate, D2 - severe, D3 - extreme, and D4 - exceptional drought.
Colorado Drought by the Numbers

Week

Date

None

D0

D1

D2

D3

D4

Current

9/15/20

0

1

10

39

50

0

Last Week

9/8/20

0

1

7

37

54

0

3 Months Ago

6/16/20

18

16

11

22

33

0

Start of Calendar Year

12/31/19

32

17

31

20

0

0

Start of Water Year

10/1/19

30

42

28

0

0

0

One Year Ago

9/17/19

50

43

7

0

0

0