Image
Students Showcase Work, Compete for Scholarships at Spring Horse Show
Lamar Community College freshmen in the Horse Training & Management (HTM) and Equine Business Management (EBM) programs demonstrated their hard work from this past year during the Spring Horse Show.
Friends and family of the students as well as horse owners watched as each student performed reining patterns and additional horsemanship skills to demonstrate what they have learned during the academic year as well as how well they have applied that knowledge to training their horses.
Emma Merrill-Burrell, an alumna of the LCC HTM program, served as judge for the event.  Each student was scored based on how well they follow the pattern, how well their horse responds to commands, and additional technical aspects. 
HTM instructor Jason Kravig presented a range of awards to the programs' top-performing students including: 
HTM Champion of Show: Gwyneth Claas (Seneca, KS) – Buckle and $500 scholarship
Most Improved HTM Student: Ryan Thompson (Elizabeth, CO) – Buckle and $500 scholarship
HTM Student of the Year: Baylea Redd (Palisade, CO) – Handmade spurs
EBM Champion of Show: Haley Nevin (Towanda, KS) - Buckle
EBM Student of the Year: Alysha Tibbetts (Louviers, CO) - $500 scholarship
Image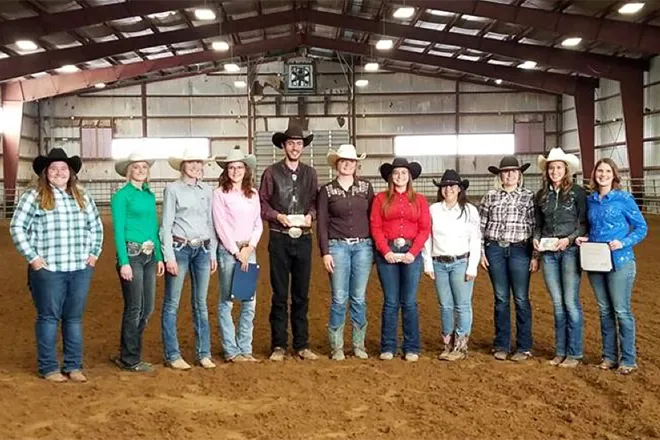 LCC Horse Training & Management and Equine Business Management hosts a horse show at the end of each semester.
Visit www.lamarcc.edu/horse-training-managementto learn more about the equine programs at Lamar Community College.